The Captain America Chopper – Easy Rider's American Icon
Nowadays, when you think of world-famous motorcycles your mind will probably think of brands like Honda, Suzuki, Ducati, or Yamaha. If you're a fan of something more classic, the Harley-Davidson Fat Boy may be the first bike you consider. But when it comes to truly iconic, era-defining motorcycles, it's hard to go past the legendary "Captain America" Harley-Davidson chopper. First appearing in the cult 1960s film, Easy Rider, this bike came to be recognised as so much more than just another bike. Read on to discover what made it so special, and how it secured its place in motoring history!
Creating Captain America
If you're making a movie about a couple of free spirits riding motorcycles across America, you better believe the bike needs to be something that stands out. Such it was, that when 1969 film Easy Rider commenced production, wheels were set in motion to build something to really get the audience's hearts racing. Protagonist Peter Fonda took the lead on the bike's design, and even provided the original 1952 Harley-Davidson Hydra-Glide – purchased from a police auction.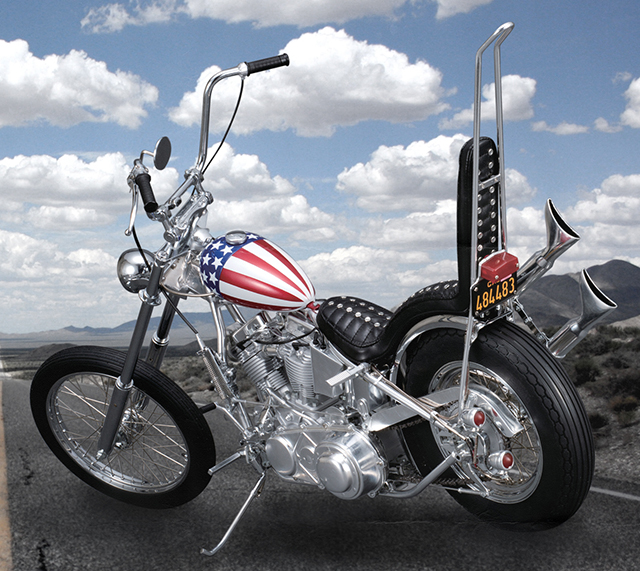 With a solid platform to start with, Fonda was joined by bike builders Cliff Vaughs and Ben Hardy. Together, they set about building the now famous chopper. The Hydra-Glide's panhead engine was retained, but little else of its original structure remained. Front brake? Gone. Turn signal? Gone. Seat springs, front fender, and horn? You guessed it – gone. Following much reshaping, a dip of chrome, and a fresh coat of paint resembling the American flag and Captain America was born.
The Cultural Significance of Easy Rider
Written by Terry Southern and stars Peter Fonda, and Dennis Hopper, Easy Rider was released in 1969 to critical acclaim and box office success. Finishing as the third highest-grossing film of the year, it also garnered Academy Award nominations for Best Original Screenplay and Best Actor in a Supporting Role for Jack Nicholson. Beyond these fine achievements, the film was vital in launching the New Hollywood era of the late '60s and '70s.
Furthermore, Easy Rider stands as a shining example of counterculture cinema, perfectly capturing the political climate and societal tensions present in 1960s United States. Drug use, hippie culture, and the exploration of American freedom are all major themes, captured in a way few other films have managed before or since.
As such, Fonda's chopper has also become synonymous with these themes, especially with what it is to truly be free.
What happened to the bikes?
Four motorbikes were built during production of Easy Rider – two Captain Americas, and two "Billy Bikes" – the bike that Dennis Hopper's character rode. Unfortunately, three of the four bikes were stolen before they had finished filming. While their exact whereabouts remains a mystery, rumour has it that they were taken by Hells Angels members and that the bikes remain in a clubhouse.
What little remained of the bike was given to actor Dan Haggerty
Of the three stolen bikes, one was the Captain America that Fonda rode the most during the film. So what happened to its brother, the one that wasn't stolen? Fans of the film will recall that (spoiler alert) the surviving Captain America perished in Easy Rider's stunning finale – crashing and disappearing in a blaze of glory. What little remained of the bike was given to actor Dan Haggerty, who gradually restored it to something resembling the original.
Whether you're a film fan, or mad about motorbikes, it's hard to go past the Captain America when it comes to cultural icons. The customised chopper not only looks amazing, but captures a true sense of freedom that few other vehicles have ever managed. Made of die-cast metal, ABS plastic, rubber and vinyl, our 1:4 scale model Captain America is an accurate replica of the famous bike – build yours today and capture your own piece of Americana!