Scale Modelling Tips: Weathering Your Scale Model
There's nothing quite like a shiny, newly-completed scale model. From racing cars and motorbikes, to trains, planes, and cinema icons, there's a real sense of achievement when it's all put together. But while some models look amazing with a clean coat of paint, others benefit greatly from a more aged, authentic look. This is where weathering comes in, and with a few choice techniques you can transform your finished scale model into a realistic replica of the real thing. Are you ready to take your latest model to the next level? Follow our handy weathering tips below!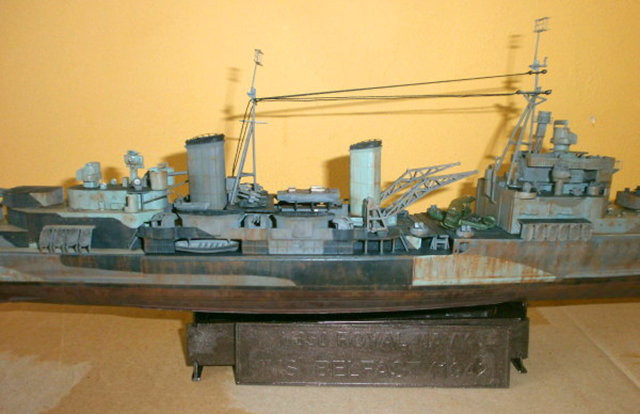 Beginning weathering
As with all scale model projects, having good reference material is a good place to start. Age, environment, shape, construction, and level of maintenance will all affect how a scale model should be weathered. As an example, water will run down or even pool on a given vehicle to cause rusting. Cars and motorbikes can rust right through, while more robust, armoured vehicles tend to only show surface rust. Aluminium airplanes don't rust at all. Most planes receive regular maintenance, but tanks generally require minimal maintenance and are instead exposed to higher degrees of wear and tear.
The order in which you weather is important for achieving the most authentic, realistic results
Before you start weathering your scale model, you should first remove any grease or residue, apply your chosen paint colour, and add any decals.If you only intend to add a coat of dust, paint all details beforehand. However, if you are planning a more extensive weathering job, it may be simpler to paint your details as you go.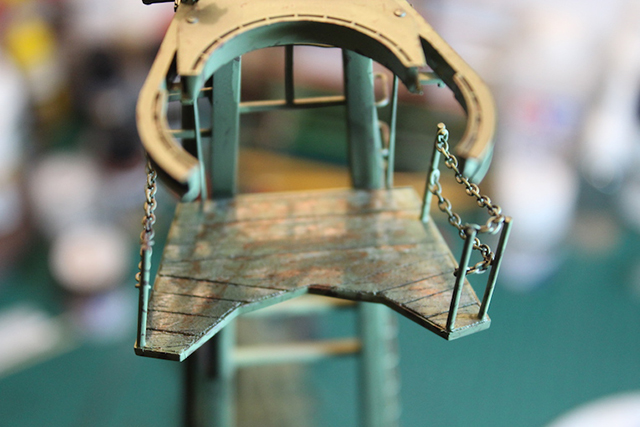 The order in which you weather is important for achieving the most authentic, realistic results. Starting with a "factory finished" vehicle, begin by breaking down its colour. Next, apply wear and exposure effects to the paintwork. Continue by highlighting any metallic effects where paint has worn through, and finish by showcasing bare metal for areas that have taken the greatest level of wear.
Weathering tanks and military vehicles
Military vehicles such as tanks, jeeps, and trucks typically suffer a higher amount of wear and tear than other vehicles. If you're working on a military model such as our T-72 Russian Tank, here are a few steps you can follow to get that authentic weathered finish.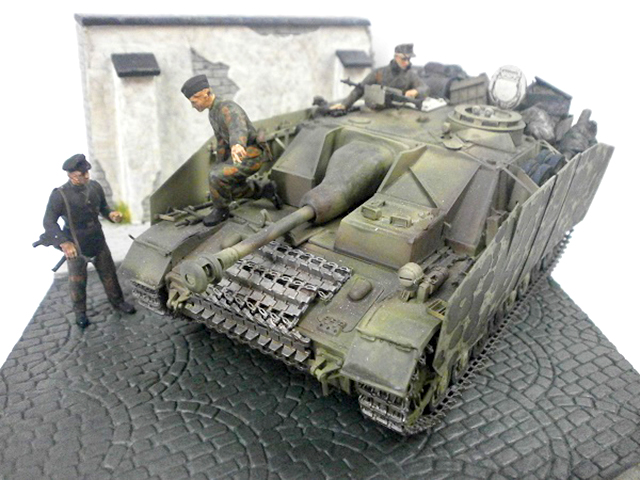 Colouring your military model
As vehicles age, they become dirty and discoloured. To break down a factory-fresh finish, simply apply washes of white, burnt umber and pale yellow oil paint to the vehicle in no particular order, judging by the changing effect how much to put on.
To start, coat the top of the vehicle with clean turpentine and let it run down the rest of the model (the turpentine will not affect your base coat if you have left it to dry for 2-3 days). With a small amount of colour on your brush, touch it across the top edge of your model so that it forms streaks down the side. Avoid dragging your brush across the surface, as this leaves brush strokes. If applied correctly, slight stains of colour will remain as the turpentine evaporates.
Muddy water splashes can be suggested using pale, almost white streaks
Now you can work your way down the model with a fresh turpentine wash followed by the colour. The overall look is entirely up to your own creativity and vision, so feel free to mix, lighten, or darken the colours as you see fit. Muddy water splashes can be suggested using pale, almost white streaks. If you ever find that a colour appears too strong, apply a touch more turpentine. We recommend not treating the model surface uniformly – instead, vary your colours and level of streaking to break it up and achieve a more natural look. Allow your model to dry thoroughly before you proceed to the next step.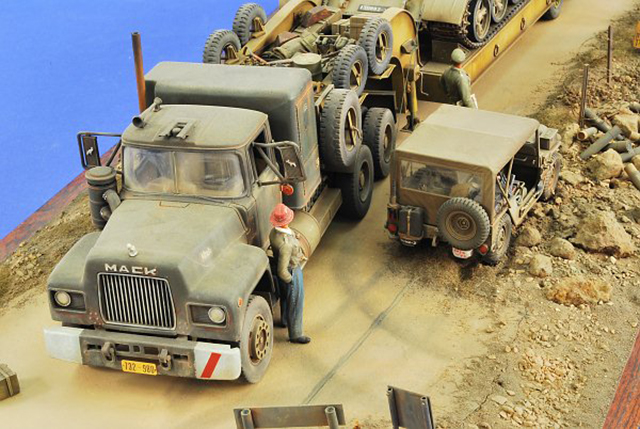 Creating and applying rust
Technically, you should apply rust later to replicate the natural process. However, the following method requires the use of turpentine and could potentially affect your paintwork if applied afterwards.
Let the rust run into seams and channels, and gather at the base of any details
Begin by creating a light wash using chrome orange oil paint. If you want older rust, mix in a darker colour. Again, work from top to bottom to touch off your paintwork in the right areas. Rust forms in grooves and channels where rain runs and pools, and where metal sheets are riveted or welded together. We recommend being selective with your areas for the greatest effect. Let it run around lower edges, and push it with your brush to allow it to flow. Avoid brush strokes. Let the rust run into seams and channels, and gather at the base of any details. Touch out remaining residue to leave a subtle application of rust colour. If you find any stains are too obvious during drying, soften edges with a touch of turpentine. Allow your rust to dry overnight.
To create a blistered rust effect where it appears beneath cracked paintwork, apply a thin white glue and a light sprinkle of powdered Polyfilla to the area. Blow away excess powder and apply your rust as per the above instructions.
General wear and tear
To simulate this effect of wear and tear, apply a small amount of pure white or pale yellow paint to a stiff bristle brush. Use a light scrubbing action and circular motions to apply it to your model. Don't stipple on the colour – keep your brush on the model. Vary your intensity, and create the effect on exposed areas – hatches, tool boxes, ribs and ridges, and especially tank drive wheels. If a decal tears or breaks away, use this to your advantage by weathering these areas to indicate that paint has chipped. You can also use this method to highlight the vehicle's form, accentuating key areas.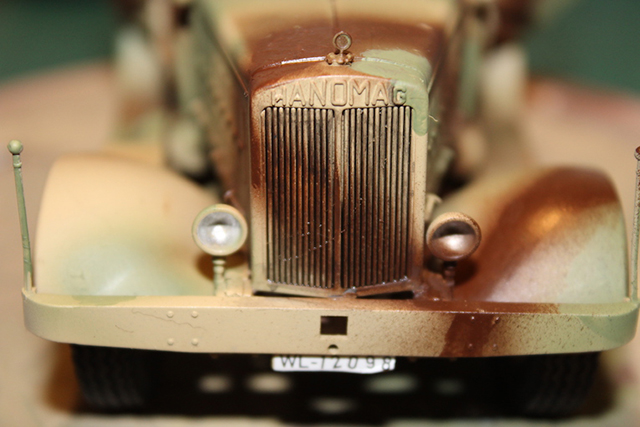 Showing bare metal
Regular wearing leads to the exposure of bare metal, leaving a metallic sheen. Concentrate this effect on the most exposed areas such as track-guards, turrets, wheels, and tracks.
Firstly, apply a light wash of metallic steel paint. Feather the paint so the effect is only really apparent when the model is turned toward light. When the turpentine evaporates, there will be a thin film of metallic particles to highlight the texture. Prevent the steel wash from running into areas where this type of wear wouldn't happen naturally, such as channels and joints. If this happens, use a dry brush to lift it out and use a dark brown or grey wash to dull the area.
While the turpentine dries, add small spots of pure silver paint on a dry brush to the steel areas. The turpentine will encourage the silver to blend in. Use the silver sparingly on raised areas such as the edge of shackles, worn nuts or rivets, grab handles, hinges, and rims of wheels. Lightly brush across the edges of slight mouldings such as the cover on a driver's view panel or a tool box lid. Bear in mind that silver is difficult to remove if too much is applied.
Wrap a tissue on the end of a paintbrush handle to get at points you cannot reach with a finger
Graphite can be used in place of steel and silver paint to simulate areas of bare metal. It looks particularly good on the exposed areas of a tank turret and can also be used to burnish gunmetal on machine guns after a normal coat off gun metal grey or matte black enamel. Graphite can be applied over any colour but it is best to add it as the final stage of painting.
Scrape some graphite from a soft lead pencil into a powder on a palette. Dip a finger in the powder and rub it on the model. As you rub, the graphite will take on a sheen and pick out pitting on the moulding. Blend in the edges of the graphite with a clean finger. Wrap a tissue on the end of a paintbrush handle to get at points you cannot reach with a finger.
Tracks and tyres
If you are painting a tank, washes will have stained tracks and tyres the colour of the body. The tracks now need to be painted to look like unpainted metal and tyres like rubber. First paint areas of rusted metal on the tracks using a rust-coloured paint, then apply a wash of burnt sienna adding very small amounts of orange in places. While it is still wet, run a steel wash along the exposed surfaces of the tracks. Let the turpentine dry for a while, then use very small amounts of pure silver to highlight the edges and those parts which come in contact with the ground.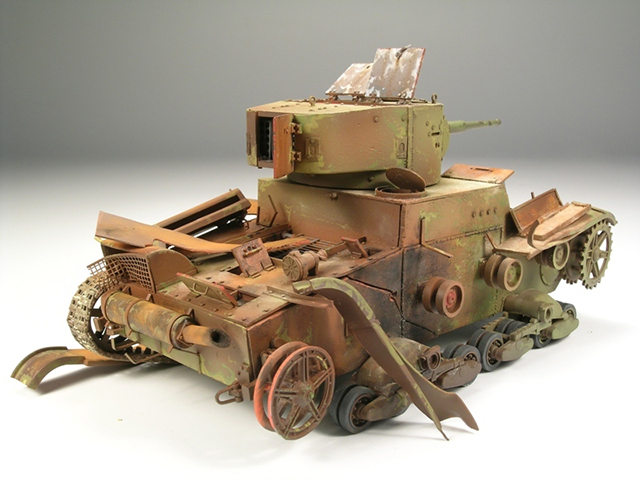 Now paint the rubber tyres using shades of grey – they will never be black, especially after extensive use. You can add interest by varying the shades of greet from wheel to wheel as some may be newer than others. Lighten the surfaces which come into contact with the tracks and pick out the edges with a pale colour. Don't forget to paint any spare tyres that may be fixed to the body of the vehicle and treet the rubber shoes found on some tank tracks in a similar way.
Paint truck, jeep and motorcycle tyres like tank tyres but be sure to pick out the texture of the rubber tread. Motorcycle tyres have a distinctive tread. Paint them grey then highlight the surface that comes into contact with the road with a pale colour to emphasize the deep texture.
Details and equipment
The next step is to go over the vehicle bringing out the smaller details in relief and treating various pieces of equipment specially. To pick out the details, draw a thin line of raw umber paint under a grab handle or tool box lid, for example, then blend it in with a brush which has been squeezed dry. A little turpentine can be used here. For exhaust stains, paint inside the exhaust pipes using matte black, then spray on the paint to stain the surface. Run diluted black paint into the holes of any grilles.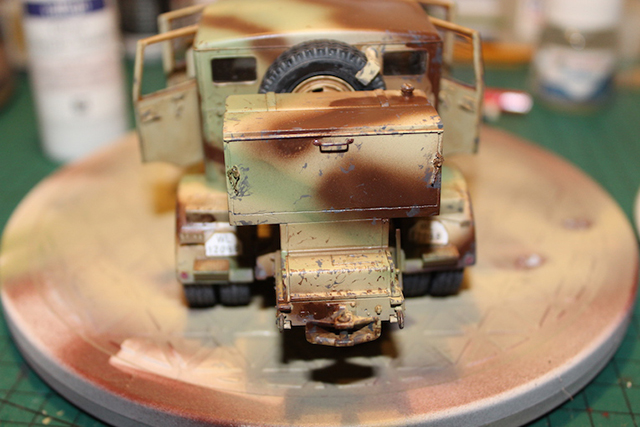 Mud or dust
The final step is to depict the immediate effects of the environment. For a tank moving through a muddy landscape, for example, take a dark earth-colour paint and mix it with some Polyfilla into a smooth paste. Stipple it onto the tracks, wheels, and bottom of the tank. Build it up under the front edge of the trackguards and on the front of the hull. Let it dry overnight. Dry brush lighter tone of paint onto the mud to vary the colour.
To portray a vehicle in a dry environment, apply a light coat of dust with an airbrush
Simulate thin, sprayed-on mud by dragging brown paint along the lower edges of the tank with a stiffer bristle brush. When the paint has dried out a little, highlight certain areas with a soft brush and very small quantities of pure white paint, allowing the paint to pick up colour from underneath.
To portray a vehicle in a dry environment, apply a light coat of dust with an airbrush. Concentrate on the bottom, allowing only a light overspray to creep up the sides. Another method is to stipple on powder scraped from a white pastel. For dirty windshields, mask the window with tape before spraying on dust with an airbrush.
Weathering planes
Most planes are well maintained and few show signs of wear, but in wartime, those areas of a plane which do not affect its performance often become dirty, chipped or streaked with oil, as the ground crew are too busy on essential maintenance to deal with them. Maintenance itself can wear down the paintwork in specific areas, and sunlight can bleach and discolour it.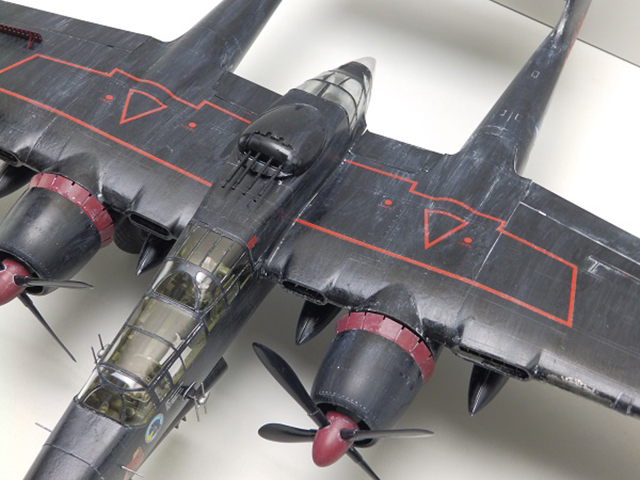 Old Paintwork
To simulate worn or faded paintwork, break own the colour with washes of varying tones. Then, emphasize the areas suggested by the washes using small amounts of pure paint on a cut-down, stiff-bristle brush and a scrubbing action. The base colour should still show through. Concentrate on the upper surfaces of wings and around hatches and make sure you tone down any bright decals.
To show areas of wear on metal-skinned planes, you can also use the metallic effects described above. For an even more realistic effect, apply metallic paint to the areas before painting the base colour. Either paint up to these areas stippling around the metallic paint, or spray, then carefully rub with fine wet-and-dry paper until the metallic paint begins to appear.
For aged paintwork, break down the colour with washes, then emphasize areas with pure paint
Silver paint can be dulled down to an aluminium colour by applying a coat of matt varnish over the surface. Pick out polished areas afterward with more paint. Areas of fabric-covered aircraft which are constantly handled by ground crew can be dirtied by applying brown-grey paint. For aged paintwork, break down the colour with washes, then emphasize areas with pure paint. Sun-bleached paintwork can be created by weathering the upper surfaces with pure white paint for a faded effect. For a touch more authenticity, show bare metal on the upper surface of the wing where the pilot would typically enter the cockpit.
Stains
Oil and hydraulic fluid stains can be shown running from the edges of engine cowlings and wheel flaps. Apply clean turpentine liberally to the area, then touch off diluted brownish-black paint. Let it flow down for a parked plane, or streak the paint straight back with a turpentine-dampened brush to show stains distributed by the slipstream. Use dirty turpentine to simulate a stain running down from a fuel cap.
Use dirty turpentine to simulate a stain running down from a fuel cap
Demonstrate black stains that run from gunports with a drop of diluted black paint behind the port, and streak it using a turpentine-soaked tissue. Show brownish-black exhaust stains in the same way or spray on with a finely set airbrush.
Mud and dust
Planes which operate from a grass field may be slightly muddy. Treat wheels like other vehicles (see above), and apply the same effect to undercarriage struts, wheel flaps and along the underside of the fuselage, especially around a tail skid or wheel. A light layer of dust can be applied to any aircraft, especially desert planes.
A few patches can give a plane a weathered appearance but keep the effect restrained
Repairs
A few patches can give a plane a weathered appearance but keep the effect restrained. Paint small patches on fabric-covered aircraft or apply small patches of foil on metal-skinned aircraft, before ageing the paintwork. To indicate a new control flap, paint it a colour that doesn't quite match the original, or just use a primer coat.
Weathering trains
Good quality scale model trains can be transformed into authentic miniatures with some simple weathering techniques. Rolling stock, like military vehicles, is bleached by sun and sand or rusted and streaked by water. Almost any degree of weathering can be applied, from a light coat of dust on a passenger coach to dirt and wear on an old freight car. After weathering a working locomotive, always clean any paint from the wheels so that good electrical contact with the track is maintained.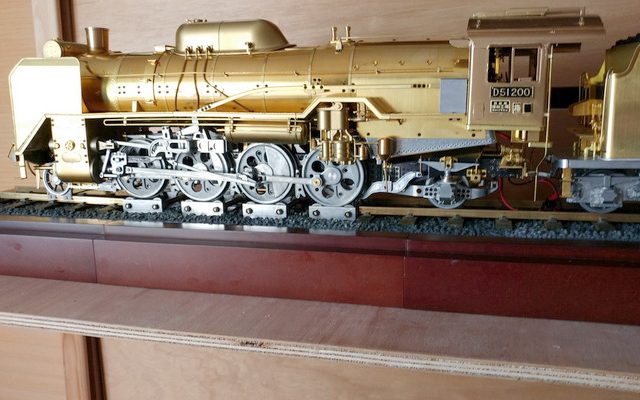 The chassis and wheels of every model are treated in the same way. Almost without exception this part of a model is moulded in black plastic which benefits from an overall coat of a mixture of rust-coloured paint and thick pigment from the bottom of a caon of steel paint. Apply the paint with a controlled stippling action so that it dries with a slight texture. Next, dry brush the chassis and wheels with burnt sienna oil paint using a stiff bristle brush, and highlight the details.
While not comprehensive, we hope the above guide gives you a great starting point for your current or future weathering endeavours! Whether you weather, or whether you don't, these tips are useful for a range of different scale model types, sizes, and shapes. Have you weathered any models before, or are you weathering as part of your current build project? We'd love to see your work, so get in touch in the comments below or via our social media channels!