San Felipe Ship – Bring this Spanish Legend to Life
During the Age of Sail, the world's oceans were graced with ornate, heavily-armed ships, the likes of which changed the course of naval history. France had the Soleil Royal, the UK had the HMS Bounty and Lord Nelson's HMS Victory, and the US had the USS Constitution. Not to be outdone, the Spanish had their own battle-worthy fleet. One of these is the Santisima Trinidad, and another was the mighty three-decker San Felipe. But what made this ship so formidable? Read below to explore some of its fascinating history, and find out how you can build your very own San Felipe ship!
San Felipe History
Launched in 1690, the San Felipe was built with agility and manoeuvrability in mind. Considered one of the most beautiful Spanish ships ever built, her wide sails and slim profile gave her excellent advantages over her rivals, with 104 guns making her a force to be reckoned with. As the flagship of the Spanish Armada, the San Felipe went head to head with the mightiest British and French ships of the era.
In November 1700, the death of Charles II of Spain sent ripples through Europe. Two years prior, William III of England and Louis XIV of France had made attempts to partition the Spanish empire, but the Spanish rejected such attempts. During this time Charles II named Louis XIV's grandson, Philip of Anjou, as his heir. Philip accepted his title on November 16 1700, becoming king of the undivided Spanish Empire. With this proclamation, the War of the Spanish Succession began. Habsburg Spain formed an alliance with the Holy Roman Empire, Great Britain, Portugal and Savoy, Prussia, and the Dutch Republic, in support of Archduke Charles. They went to war with Bourbon Spain, who had an alliance with France, Cologne, and Bavaria in support of king Philip of Anjou. Portugal and Savoy would swap sides in 1703.
With only 4 Spanish ships lost compared to 9 British ships, this was considered a victory for Spain
The San Felipe ship had a major role in the war in 1705, when it fought in a fierce 24-hour battle between 35 British ships and 12 Spanish ships. With only 4 Spanish ships lost compared to 9 British ships, this was considered a victory for Spain. The San Felipe sunk two ship-of-the-lines and one frigate, but unfortunately she was captured by the British. They were unable to salvage her though, with her damage too extensive, and the legendary Spanish ship eventually sank to the bottom of the ocean along with many tons of gold.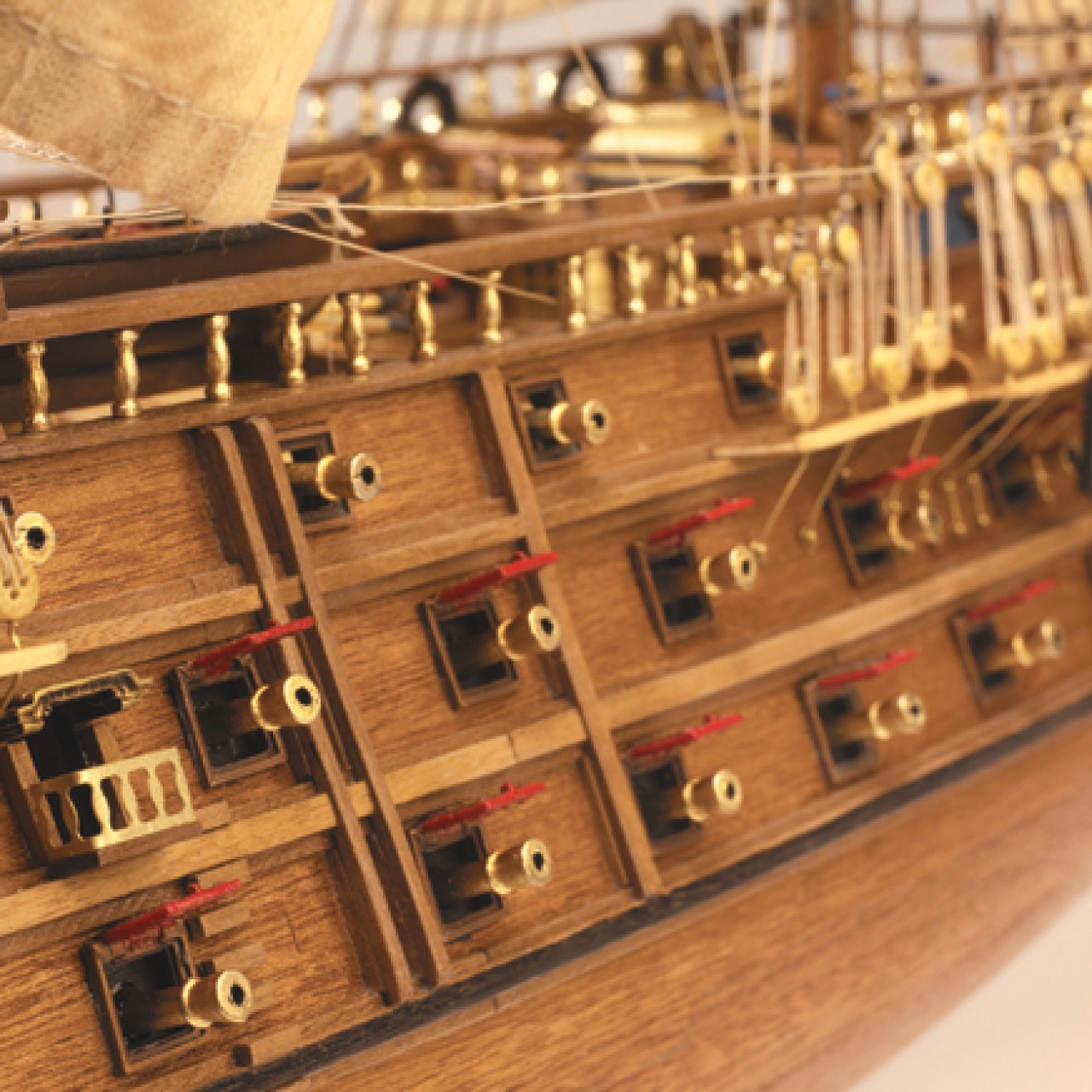 Build your own San Felipe ship
There's nothing quite like building a large scale model ship. With each new part and each completed section, you can relive what it must have been like for the world's greatest ship builders, constructing a masterpiece of beauty, speed, and power. With a finished size of 63cm high by 32cm wide and 83 cm long, you can really appreciate the fine detail that goes into building the San Felipe. This high-quality model kit comes with stitched sails and rigging threads, a dark hardwood outer layer, pre-cut gun ports with cast metal port frames, and brass fittings including photo-etched beakhead rails and turned pillars. In addition, this model ship's hull uses a double-skinned plank-on-frame construction. The exquisite detailing, elaborate stern and deck, and easy-to-follow step-by-step instructions make our San Felipe ship model an absolute must for scale modellers and ship enthusiasts. Order your full kit now and build your own piece of Spain's naval history!