Belem Ship – History of the French Three-Masted Barque
Classified as a Historical Monument in 1984, nowadays the Belem ship is used for civilian training. But with more than 120 years on the open seas, there is much more to this ship than meets the eye. Read on to discover the diverse history and heritage of this famous French ship!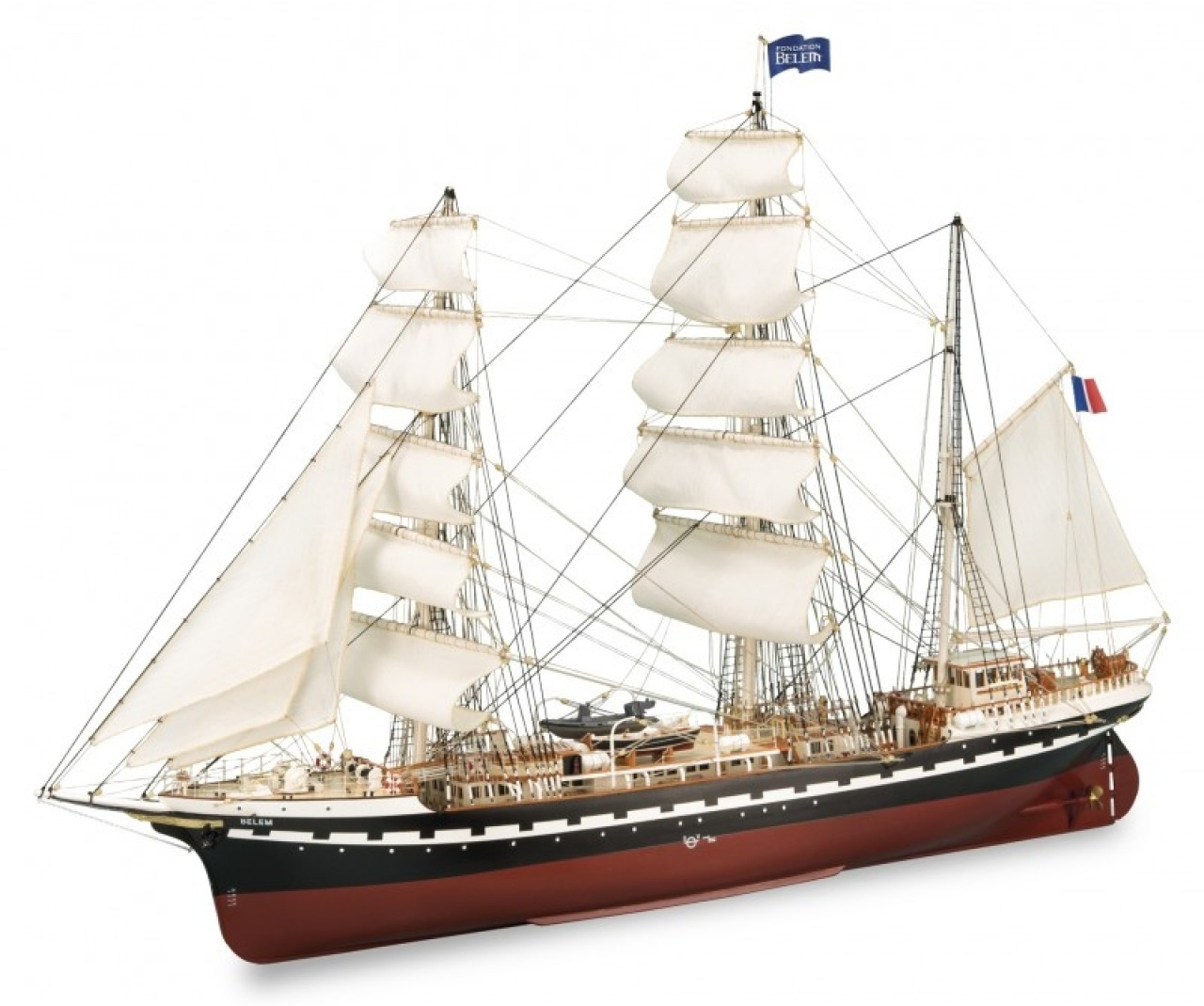 The merchant ship's narrow escape
Built in 1896 at the request of Fernand Crouan, the Belem was used as a merchant ship until 1914, transporting sugar, cocoa, and coffee from the West Indies, Brazil and French Guiana to Nantes, France. On 8 May, 1902, the Belem and its crew were fortunate to escape disaster when Mount Pelée erupted in Saint-Pierre, Martinique. Arriving before the major eruption, there were too many vessels already occupying the roadsteads. Annoyed at having nowhere to anchor, Captain Julien Chauvelon anchored the three-master miles away instead. This move saved them from the deadliest eruption of the 20th century, which claimed approximately 29,000 lives.
A luxurious transformation
When World War I commenced, a lot of the world's commercial ships were destroyed. But not the Belem. No, it traded a terrible fate for something much better when it was sold to the 2nd Duke of Westminster, Hugh Grosvenor. With a few choice modifications, including the addition of two auxiliary 300HP Bolinder Diesel engines and Victorian balusters, the Belem was transformed into Grosvenor's elegant pleasure yacht.
The Guinness world tour
The three-masted ship changed hands again in 1922, purchased by Sir Ernest Guinness, technical expert of the Guinness family directors at Guinness brewery. After renaming her the Fantôme II and revising the rig, Guinness was joined by his daughters Maureen, Oonagh, and Aileen in 1923 on a tour of the seven seas. They travelled across the globe using the Suez and Panama Canals, sailing under a British flag. With World War II fast approaching, the ship was moored in Cowes, Isle of Wight, where it remained even after Sir Guinness' passing in 1949.
Italian ownership and adjustments
Two years later, the Belem (then the Fantôme II) was purchased from Sir Ernest Guinness' heirs by Venezian count Vittorio Cini. He renamed her the Giorgio Cini after his late son, who died in a tragic plane crash in 1949 near Cannes. With visions of using the ship for maritime training, Cini had her refitted as a barquentine, with its interiors remodified to allow for a larger accommodation of students. The Giorgio Cini was used successfully as a training ship until 1965, at which point she was deemed too old for practical use and was moored on the Island of San Giorgio Maggiore, Venice.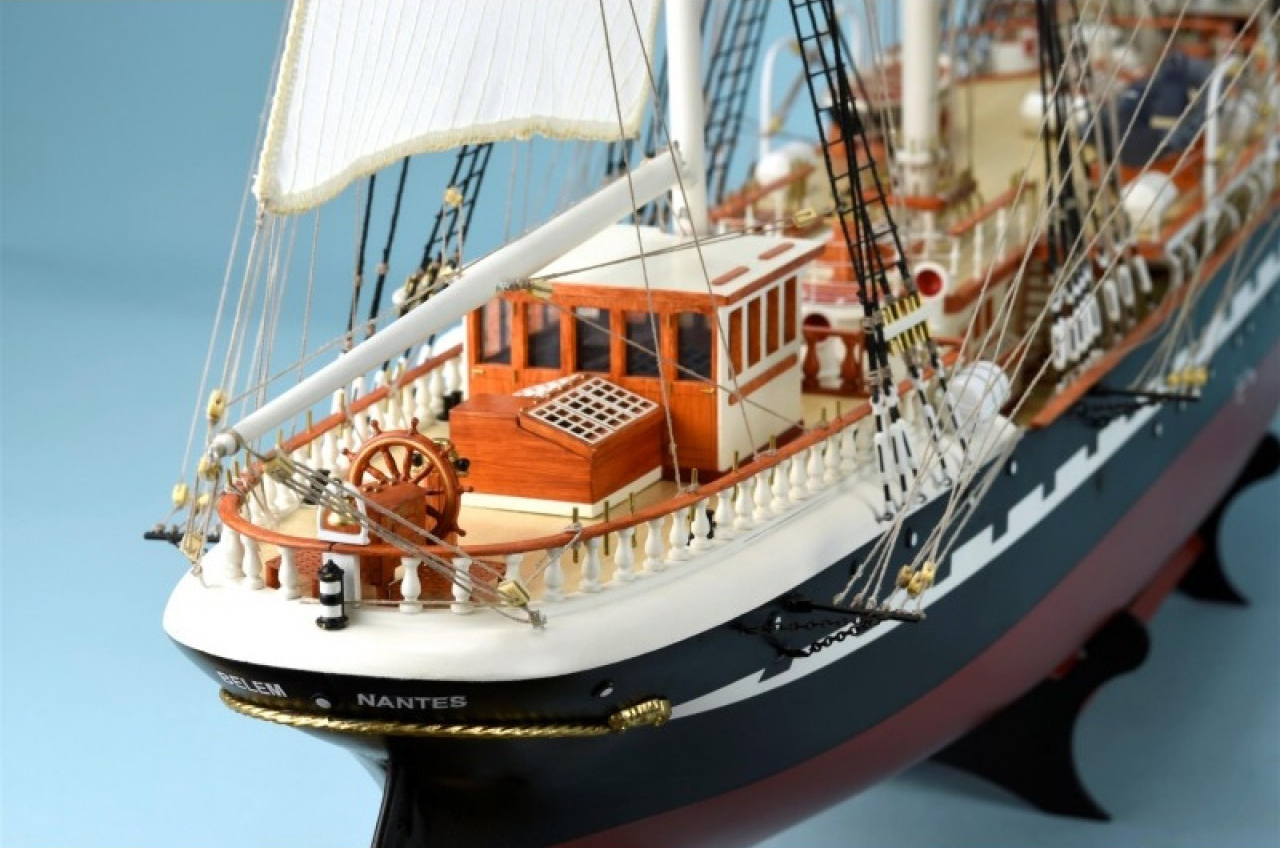 In 1972, the Italian Caribinieri sought to restore the ship to a barque rig, but the efforts proved too costly and the Giorgio Cini became the shipyard's property. Four years later she was successfully converted to a barque. In 1979, the three-masted ship was sold back to the French and made a triumphant return to her original home port of Nantes, where it was renamed the Belem in honor of its rich heritage. It has been used as a sailing ship ever since, and also serves as a French ambassador and sailing museum, attracting more than 40,000 visitors per year. 
Though she underwent many physical and name changes, the Belem's spirit has remained strong since its maiden voyage in the 19th century. It may not have the same prestige or recognition as other French ships such as the Soleil Royal, but it remains an important part of not only France's maritime history, but indeed, the world's. Our 1:75 scale Belem ship is a beautiful large scale replica that's ideal for any ship lover – order your full kit now and capture its wonderful history in your own home!