Suzuki Hayabusa: Rise of the World's Fastest Production Motorcycle
Much like Lamborghini is to the world of supercars, Suzuki is a brand that has been synonymous with superbikes for a very long time. Along with other pioneers such as Aprilia, Honda, and Yamaha, Suzuki has produced some of the world's most innovative and mind-bending bikes, and continues to quench that need for speed of many an adrenaline junkie. But of all the production motorcycles that have come and gone, only one can claim the title of being the world's fastest – the Suzuki Hayabusa GSX 1300R. Read on to discover how this speedster came to be, what made it so phenomenal, and why it remains one of the most sought after superbikes on the market.
Suzuki's motorsport transcendence
Although Suzuki had developed a motorised bicycle in 1952, known as the 'Power Free', it wasn't until ten years later that it had an impact on competitive racing – Ernst Degner scored Suzuki's first TT victory in the 50cc race, and eventually claimed the 50cc world championship in the same year, sparking an impressive run of six 50cc titles in seven years. Two of those wins belonged to Hugh Anderson (1963 and 1964), who also claimed two 125cc world titles in 1963 and 1965, both with Suzuki.
Attracting a high calibre of racers, Suzuki continued to grow into a leading force across a range of different formats, notably with Joel Roberts in the 250cc motocross class (1971), Roger de Coster in 500cc motocross (1971), and Barry Sheene (1976), Marco Lucchinelli (1981), and Kevin Schwantz (1993) in the 500cc Grand Prix class.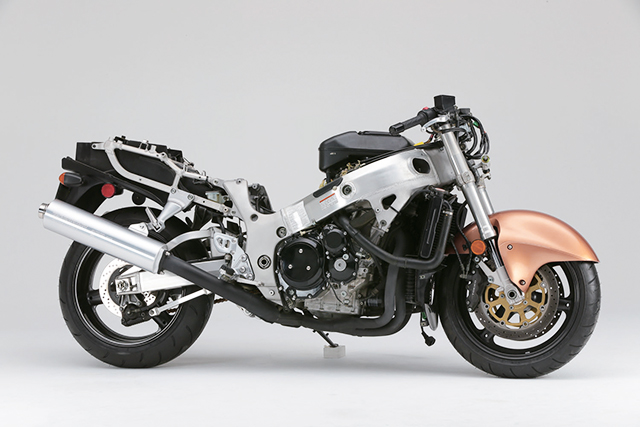 Suzuki GSX-R750: the game-changer
Known as the first true race replica machine, the 1985 release of the Suzuki GSX-R750 marked the introduction of an entirely new category of high performance motorcycles. Combining 100 horse power with a weight of 176kg courtesy of a lightweight aluminium alloy frame, the GSX-R750's speed helped it claim a 1-2 podium finish on debut in the Le Mans 24-hours Endurance Race. It was from this shift in direction that Suzuki paved the way for their fastest machine.
Enter the Hayabusa
Owing its name to the world's fastest bird, the peregrine falcon, the Suzuki Hayabusa GSX 1300R burst onto the motorbike scene with its sights set on a singular goal – becoming the world's fastest production motorcycle. With a 1299cc four-stroke, four-cylinder liquid cooled engine, aerodynamic fairing design, electronic fuel injection, shim-under-bucket lightweight valve train, 6-speed transmission and high-capacity clutch, and several more advanced specs designed to reduce weight and drag, and enhance forward movement, you could certainly say the Hayabusa "had it where it counts".
We did a lot of riding on the German autobahns and it was just unbelievable
In an interview with MotorcycleNews.com, Roger Simmons – Suzuki GB's chief mechanic and test rider when the Hayabusa was launched – stated, "I was involved in the testing of the prototype about a year before the bike was launched. We did a lot of riding on the German autobahns and it was just unbelievable – no-one had ever experienced anything like that before."
So it was, that in 1999 the Suzuki Hayabusa GSX 1300R set the world record for fastest production motorcycle at 194 mph (312 km/h), smashing the previous record held by the Honda CBR1100XX Blackbird.
The gentlemen's agreement
The Hayabusa's incredible top speed sent ripples through the world of high-speed motorcycles, and rumours emerged that Kawasaki had a serious chance to dethrone Suzuki with the release of their Ninja ZX-12R in 2000. But with increasing fears that higher speed bikes would lead to truly catastrophic carnage on the roads, a gentlemen's agreement was struck between European and Japanese motorcycle manufacturers.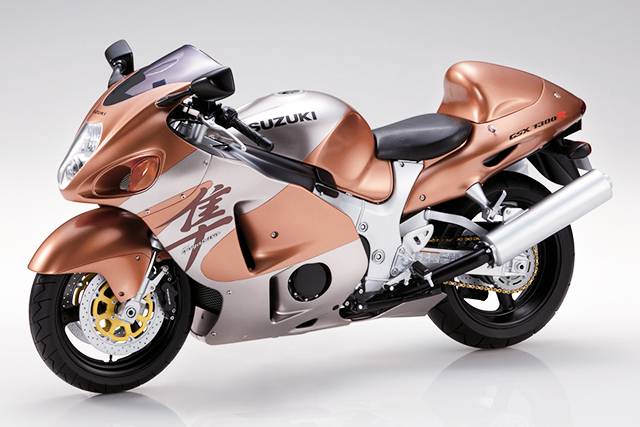 The result – electronic limitations on all motorcycle models from 2000 onwards, capping their top speeds at 186 mph (300km/h). This agreement ended the argument of which bike was fastest; with tampering being the only way to break the limit, the Hayabusa would forever reign supreme as the fastest stock, production motorbike.
Looking back, Simmons confirmed that "people still use the Hayabusa as a benchmark for top speed now and yet it's 16 years old, so that shows just how far ahead of the game it was in 1999."
How do you rate the Hayabusa? Do you think it deserves to be recognised as the world's fastest? Recreated in 1:4 scale, the DeAgostini ModelSpace Suzuki Hayabusa GSX 1300R is a faithful replica, complete with fully functioning lights and authentic engine sounds from the actual bike. Available as a 24-month subscription or full kit, this scale model is a must-have for any motorcycle enthusiast!