How to Paint Model Kits
If you're building a scale model, large or small, chances are you'll need to unleash your paint brushes or airbrushes at some point. Are you building a science fiction icon, legendary warplane, historic ship, or iconic car? Read our blog below to learn exactly how to paint model kits!
Getting Started with Model Kit Painting
No matter the scale or type of model kit you are building – from the Spitfire to the Jaguar E-type – there are a few key things to consider before you start finishing your model. The type of paint you use is a vital component – check out our paint blog to get your head around the difference between acrylic and enamel paint. Another important decision is exactly what look you are going for – will you keep your paint job clean, or go for that grungy, weathered look? If it's the latter, we recommend giving our model kit weathering tips blog a read!
If you've chosen your paint, confirmed the finish you want, and have prepared your workspace, you're ready to get started!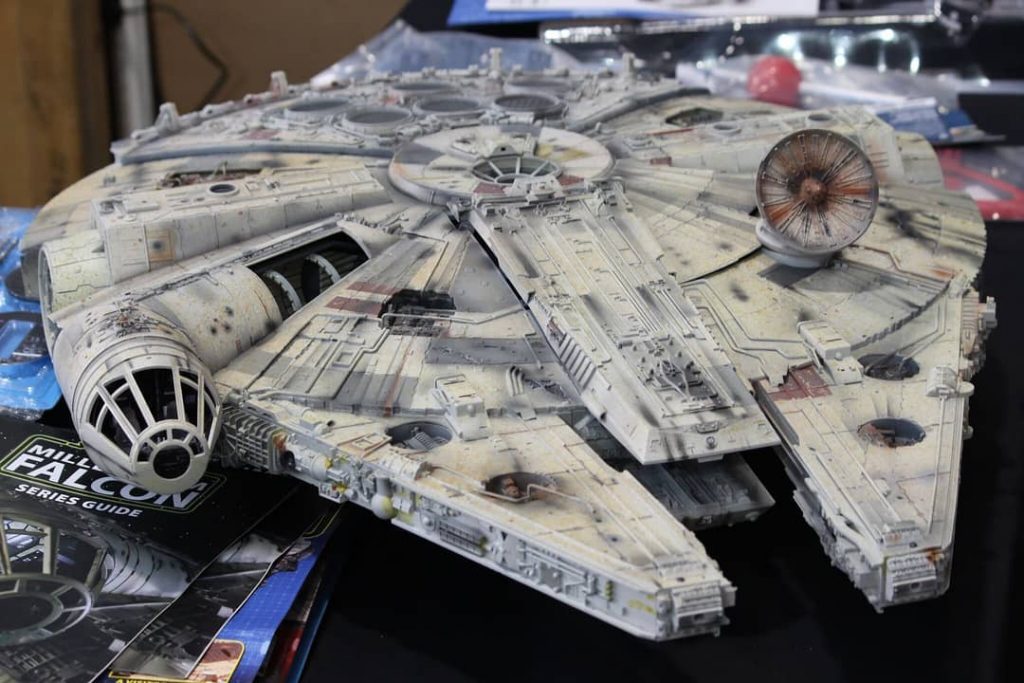 The DeAgostini ModelSpace 1:1 scale Millennium Falcon model
Steps to Paint Model Kits
If you're building a model car, plane, ship or train, here are a few key steps to take to nail that paint job:
Attach the section of your model kit you intend to paint to a wire coat hanger. Stretch the coat hanger into a diamond shape and fold it so that it looks like a C. This allows you to suspend the model while you paint. Use masking tape to connect your model section to the hanger.

Use tape to mask any areas you do not wish to paint, and spray a coat of primer across your model kit section. Allow your scale model to air dry.

Remove the section from the hanger and sand the surface to remove blemishes and create a smooth surface for your paint coat. Check out our

Abrasives and Sanding Guide

for more helpful tips!

Wash the surface of your scale model kit section with a damp rag and drop of dish soap. This removes any remaining primer residue and sanding dust. Pat it dry once cleaned.

Select your paint of choice and apply your coats, either by brush or

airbrush

. Apply smooth, even coats, and allow your model kit section to dry overnight before applying a fresh coat.

If required, sand and wash your model kit again to eliminate any imperfections.

Repeat the above steps until you are satisfied with the colour and depth of your paint coat.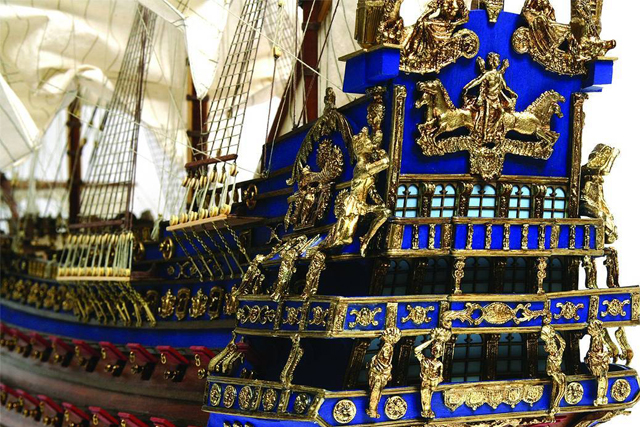 The DeAgostini ModelSpace 1:70 scale Soleil Royal model
When you paint model kits, such as the mighty Millennium Falcon, it is important to take your time, have patience and do your preparation first. One simple rule is to prepare with as much detail as possible, so you only need to paint once. Repainting a scale model after you've made a mistake is a painful process, trust us! If you're looking to finish your scale model in a different way, check out our Beyond the Basics blog. Or perhaps give Decals a go if you're building an iconic race car, motorbike, or similar!