ModelSpace Scale Modeller of the Month – March 2017
One of the great things about scale modelling is that you can give it a go, no matter how old you are, how much experience you have, or how long it has been since you last picked up a craft knife. Whether you are building a classic tank, a world famous sports car, a mighty battleship, or an iconic pop culture starship, scale modelling is a hobby that always favours those willing to put their time and energy into their craft.
This month's Scale Modeller of the Month began building when he was a young lad, took a break, then got back into it in his adult years – with some tremendous results to show for his efforts. With an excellent range of different models under his belt, we're proud to reveal Dave Crayford as our March Scale Modeller of the Month!
1) How long have you been building models for? Do you remember your first scale model?
My first model I built was when I was 9 years old. I built two around the same time, one was a Lancaster and the other a Spitfire. I can't remember which company they were by or even the size, although I know they weren't 1/72. My next model was a large Starship Enterprise NCC-1701-D, I was about 14 when I built this one. Again I can't remember who it was by, but I do remember you could remove the saucer section which I though was pretty cool.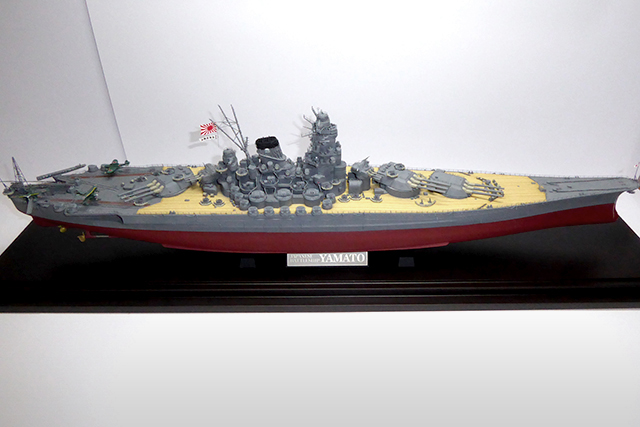 Dave's 1:350 scale Battleship Yamato
I then had a long break and it wasn't until about 3 years ago that I got back into it. I purchased my first house with my fiancé and decided I would try getting back into modelling. I ended up investing in a 1/350 scale Premium Tamiya Yamato as well the Pontos detail set.
2) How many models have you built to date, and which model are you most proud of?
I haven't actually built that many models compared to some other modellers I see. Including the three I built when I was a child, I have built seven in total. The 1/350 Tamiya Yamato I mentioned earlier, a Trumpeter T-72 tank was next, this was followed by a photo etch Hellcat and then a F4 Phantom. I have just started a 1/32 scale Tamiya F16.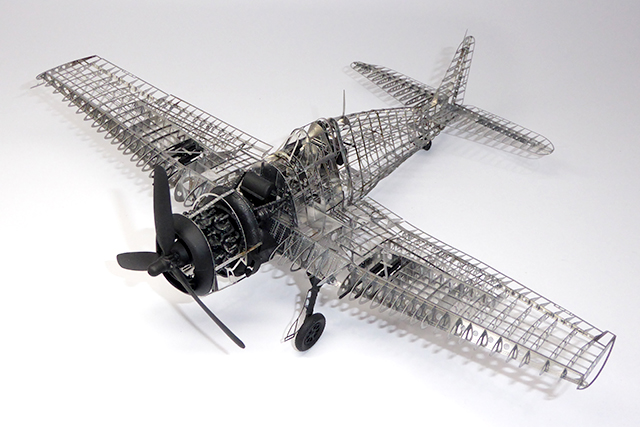 Dave's Photo Etch Hellcat
I have also built several partworks, or still in the process of building them. I got started with partworks when I saw an Eaglemoss Nissan GT-R – it's one of my favourite cars so I had to build it. This build didn't go so well though and I ended up returning it after being given the run around for 2 years of missing parts. My next partwork, when things started to get better, was the ModelSpace Santísima Trinidad and Lamborghini Countach. I've actually just finished the Countach this weekend, it's now displayed on my chest of drawers in the bedroom in a ModelSpace display case. The Santísima Trinidad unfortunately has come to a grinding halt due to time, although my step father is going to take this one and get it finished.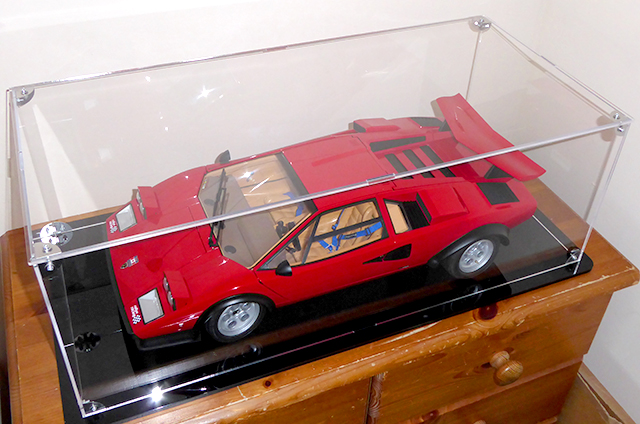 Dave's De Agostini ModelSpace Lamborghini Countach
I've also built the ModelSpace Millennium Falcon, which is HUGE – this was a lot of fun to build. Also on the bench and still very much a work in progress is the ModelSpace C57 steam train, which is a challenge but lots of fun. I also have the ModelSpace Shelby Mustang GT500 and radio controlled T-72 Russian Tank in progress too. Between being kept busy at work my bench time is also quite busy.
Although I really love several of my builds I would have to say that my proudest has to be the 1/350 Yamato. This was my first serious build and my first go with photo etch, and I spent 11 months building her in total. The Yamato then went on to win 3rd in its category at the Yeovilton Model Show – the first place went to the IPMS Nationals winner.
3) Where do you build your models?
I started off building them in the garage, however a year ago I split with the fiancé, so as a result of the split I bought her out of the house and moved everything into the spare room.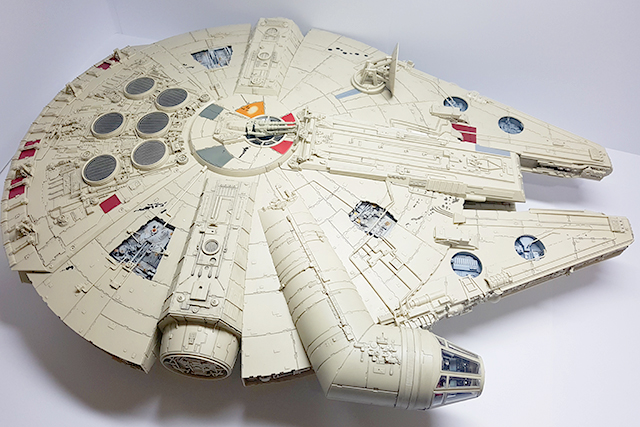 Dave's De Agostini ModelSpace Millennium Falcon
4) Do you use any unique tools or techniques you have developed?
The tools and techniques I use I would say are pretty standard, I started off and still do read lots about different techniques. Probably my favourite is building with photo etch; it's a real challenge and you get a real sense of achievement when it all comes together and the end result is normally quite stunning.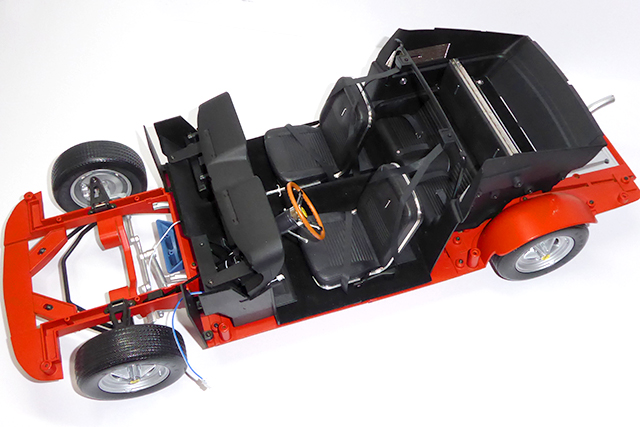 Dave's De Agostini ModelSpace Mustang Shelby GT500
5) What is your favourite part of the model making process?
My favourite part has always been the construction itself, I just find it relaxing sanding the parts and building them up. When it comes to painting I always worry that something is going to go wrong so find it's not as relaxing as the construction stage. Having said that, I am taking a strong liking to working with photo etch, I seem to have a knack for constructing with it.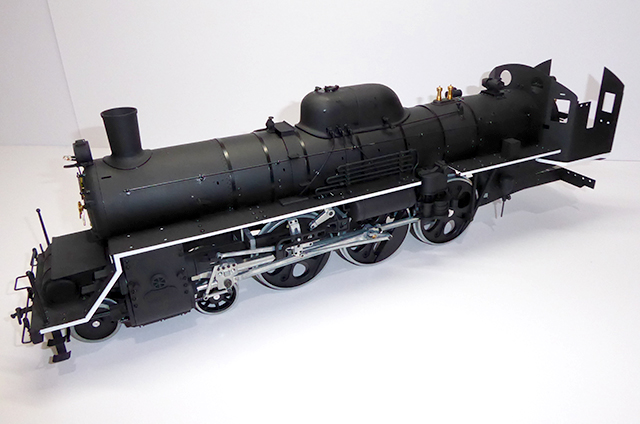 Dave's De Agostini ModelSpace C57 Steam Locomotive
6) What advice would you give to fellow scale modellers?
The best advice I could give is to take your time; it sounds like a bit of cliché but it really is true with modelling. If you're not sure about something you can normally find the answer on the internet either through asking on the forums or even just by watching YouTube videos. I've taught myself so much from YouTube.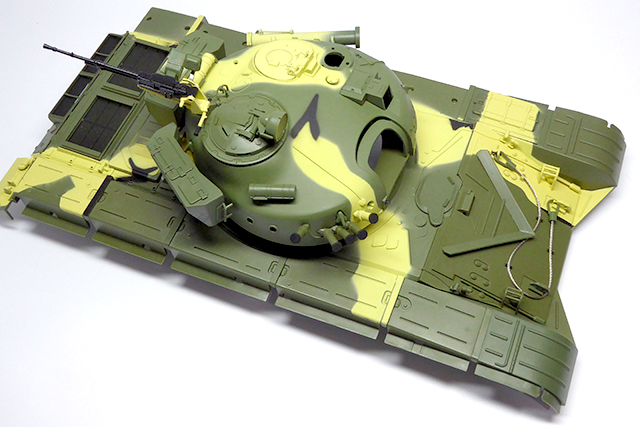 Dave's De Agostini ModelSpace RC T-72 Russian Tank
7) Are there any scale modellers or other artists whose work you admire?
There are too many modellers to mention that I admire, pretty much anyone that turns out a fantastic piece. There are many on the ModelSpace forum that fall into that group. One that sticks out for me from when I started building the Yamato is a chap named Kostos, he does amazing ship and water effect dioramas. It's not just fantastic finishes though, I admire pretty much anyone who is willing to give it a go – it takes a lot of guts to try and even if the end result isn't that great, the fact that they made the effort is quite admirable.
Are you keen to be a ModelSpace Scale Modeller of the Month, or would you like to nominate someone? If so, please comment below, or contact us on our Facebook, Twitter, Instagram, Google+ or Pinterest channels – and don't forget share your scale model photos or videos! We love hearing from our talented scale modelling community, and can't wait to see more of your amazing scale model projects!