ModelSpace Scale Modeller of the Month – September 2016
One of the best things about being part of the scale modelling community is seeing the amazing work from our fellow hobbyists. No matter how much experience you have, there's nothing like seeing a perfectly painted plane, finely tuned and fully functioning RC car, or a realistically weathered world war tank.
Each month we keep our eyes and ears out for modellers who inspire us, either through their own unique backgrounds or the top notch build projects they share with us. August's choice was Anthony Widdowson, a multi-tasking modeller dabbling in the Red Bull RB7, HMS Victory, and Millennium Falcon, among others. With literally hundreds of builds under his belt, we're proud to announce Daran Leaver (aka Nemesis on our forum) as the September ModelSpace Scale Modeller of the Month!
1) What made you decide to start model making?
Well I suppose it runs in the family. My dad used to make all sorts of things, as he was an aircraft engineer. He used to bring home spinning tops made of brass and they would spin for hours, and a gyroscope that would hang sideways on a piece of wire. Then for my 7th birthday I was given a Battle of Britain Airfix set and I was hooked. I then started on tanks, bikes and cars. Now I prefer the military kits and the odd bike and car; planes take up so much room!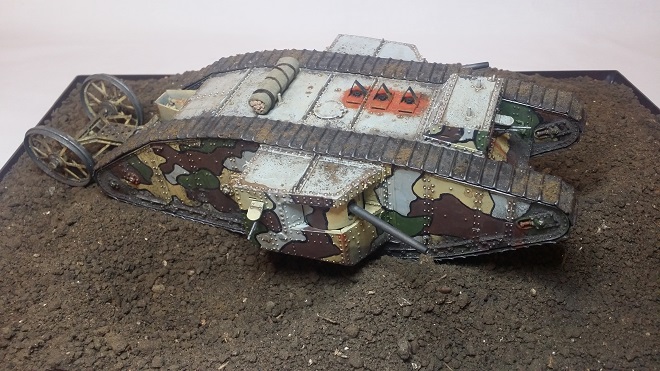 Daran's 1:35 Mk.1 Male WWI Tank scale model, built to commemorate the 100th anniversary of the first tank
2) How many models have you now built?
Well there are over 30 in my display cases (must get bigger ones!) and I have about 8 kits on the go. If you want a total since I started then I would think hundreds! Kids and grandkids have got quite a few of them, and someone bought me an air rifle when I was 8 – we had a big garden, and you can guess where quite a few ended up!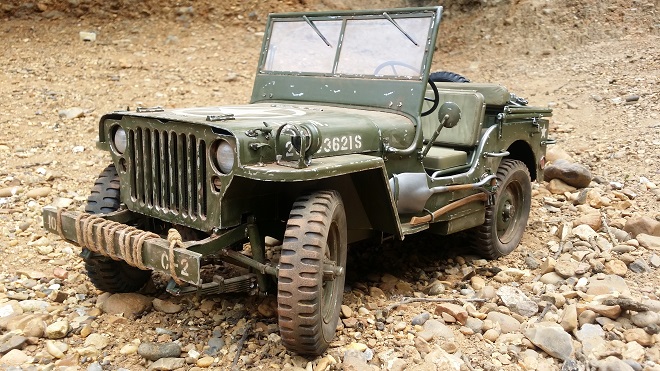 Daran's 1:6 Willys Jeep scale model, built to commemorate Jeep's 75th anniversary
3) What's the longest time you have spent on a model?
Easily 2 years, it was on a 1:16 scale Tiger Tank. It was a very inaccurate kit and I decided to completely rework it and turn it into something special. The other was about 18 months I think, and that was my T34-85, very detailed kit and it turned out really well.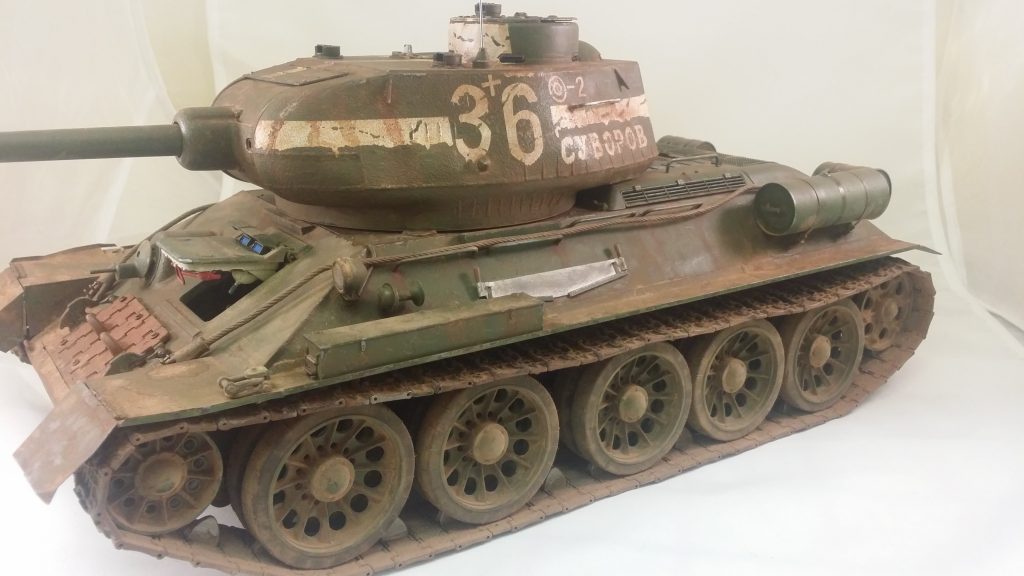 Daran's T34-85 scale model tank
4) What would you say is the hardest part about building models?
Telling the Mrs they didn't cost that much! Haha.
Detailing and weathering, it can be so easy to overdo it. Researching what you're building to make it as accurate as possible can be really time consuming, and the worst one, deciding what to build next! There are so many kits available of almost anything you can think of, and also once I have built it, where to put it. They do take up a lot of space when you have got quite a few to display.
It is only as difficult as you want to make it
But to be honest, it is only as difficult as you want to make it. Building straight from the box is easy, you follow a set of instructions and hey presto, you have a model; they even give you the painting options. It's when you start adding the after market stuff that it gets harder. Replacing parts with upgrades, folding photo etch, trimming and shaping resin parts and making individual link tracks! Oh my poor eyes! Haha.
5) Of the models you have completed, which is your favourite and why?
Now that is a tough question! I have one overall favourite and I am still building it, although it is very nearly completed. It is the 1:4 scale Suzuki Hayabusa from De Agostini Model Space. I own a Suzuki Hayabusa and it is a fantastic bike to ride and own, so when this was released I had to have one. I have personalised it so it is unique to me, but it is an amazing kit, highly detailed and a pleasure to build.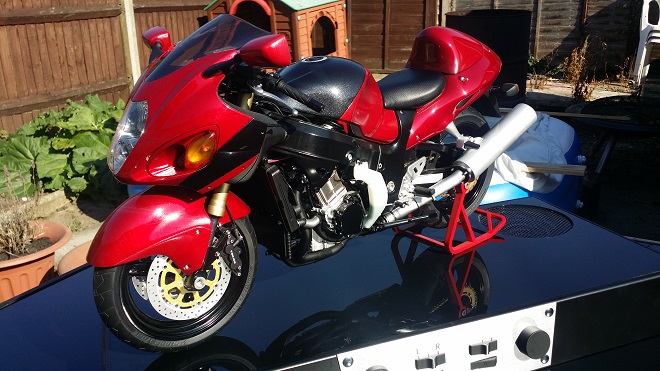 Daran's 1:4 Suzuki Hayabusa scale model
Second to that, as one I have completed, I really couldn't say. There are so many, but I will pick a couple. My 1:6 scale Willys Jeep, built for the Model Space forum as a 75th Anniversary tribute build, my 1:12 Ducati 1299 Panigale S – it is the most beautifully designed bike and I would love a real one, and my 1:16 scale T34-85 with full interior; everyone loves all the detail.
6) Which scale model type would you recommend to someone starting out?
Well I started on 1:72 scale and so did my boys. Relatively cheap to buy compared to the larger scales, nicely detailed, and with the basic kits they're very easy to assemble. I think they make great starter kits and will get you used to all the basics for model making – assembly, paint and then the detail and weathering once you become confident.
I still use an old beat up kit to practice new weathering techniques
Bigger scales are sometimes easier to assemble, as the parts are bigger. But there are also more parts, and they're not forgiving if you make a mistake! I still use an old beat up kit to practice new weathering techniques on so I don't mess up my build proper!
7) What would you say is the biggest lesson you have learned from your building experiences?
Learning to walk away from a model that is getting complicated and you're getting frustrated. Kits today have come a long way and the detail on them now is amazing, but the parts are becoming more intricate. I ruined a few kits by struggling on instead of putting it down, doing something else, and then coming back to it later with a fresh mindset. I have waited weeks before returning to a build.
Read the instructions through a couple of times so you're sure what the next step is
Also take your time. It's not a race. Spend 10-20 minutes or more, read the instructions through a couple of times so you're sure what the next step is, and before gluing anything, test fit the parts – once its stuck you're stuck!
Fancy being a ModelSpace Scale Modeller of the Month? Get in touch via our Facebook, Twitter, Instagram or Google+ channels, and show us photos of your ongoing or completed model projects! Make sure to use the #mybuild hashtag so we can find you! As always, thanks again for continuing to help grow the ModelSpace community, and for inspiring us with your incredible work!