Santisima Trinidad – One of the World's Greatest Ships
When considering the greatest ships of all time, our minds understandably go to the Age of Sail, that pioneering period between 1571 and 1862 when the world's finest ship builders created maritime masterpieces. It was the age of the UK's HMS Victory and HMS Bounty, France's Soleil Royal, and the USS Constitution from the United States. But as legendary as each of these ships were, it's hard to look past the size and power of Spain's Santisima Trinidad. Read on to see what made this one of the greatest ships that ever sailed!
Santisima Trinidad's design and construction
Designed by Irishman Matthew Mullan, a naval architect domiciled in Spain, the ship was built in Havana, Cuba, and launched from there on March 3rd, 1769 as a three-decker carrying 112 guns. With a displacement of 4,950 tons, she was the largest warship in the world, easily dwarfing its British counterpart, the HMS Victory, with a displacement of only 3,500 tons. In 1795 she underwent a redesign, whereby her quarterdeck and forecastle were joined to create a fourth deck. In addition, her armaments were increased to an incredible 150 guns, making her the heaviest armed warship afloat.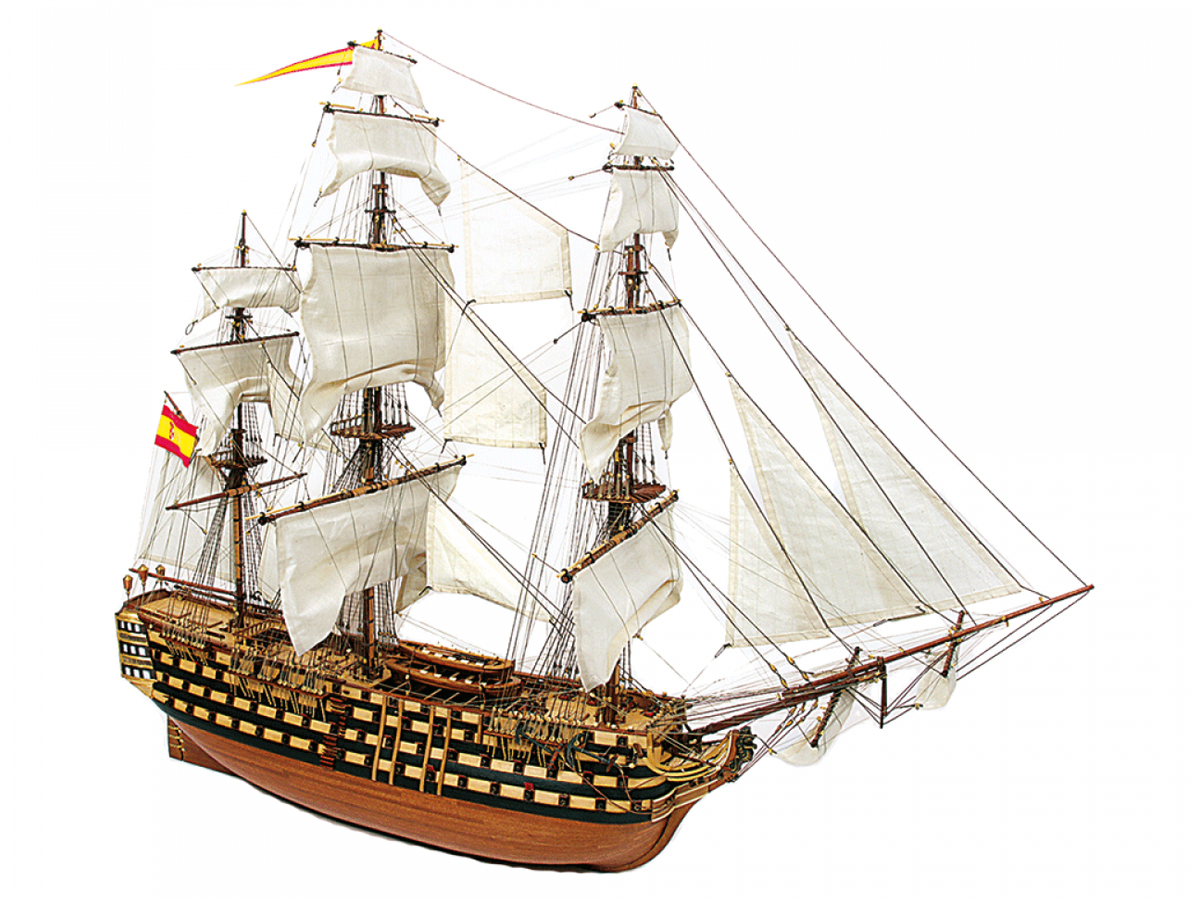 The American War of Independence
Joining France and the Netherlands, Spain threw their support behind the American colonists in the American War of Independence, declaring war against Great Britain in July 1779. As the Spanish flagship, the Santisima Trinidad participated in Franco-Spanish skirmishes in the English Channel. Her size and armaments had a large impact, leading to the capture of 55 British merchant ships in August 1780, from a total convoy of 63. She also joined the Mediterranean Squadron in 1782, in an ultimately unsuccessful attempt to capture Gibraltar.
Sustaining heavy damage, including the loss of her masts and half her crew, she struck her colours
The Battle of Cape St Vincent
The Battle of Cape St. Vincent took place on February 14th, 1797, and was one of the initial battles of the Anglo-Spanish War (1796–1808). as part of the French Revolutionary Wars. Despite their superior numbers and firepower, Admiral Don José de Córdoba y Ramos's Spanish fleet of 27 ships was defeated by Admiral Sir John Jervis's 15-strong British fleet. This battle also resulted in a close call for the Santisima Trinidad. Sustaining heavy damage, including the loss of her masts and half her crew, she struck her colours. But before the British managed to board and capture her, the Infante don Pelayo and Príncipe de Asturias intervened and towed her to safety.
23 French ships and 13 Spanish ships waged a fierce battle against the 32-strong British fleet led by Lord Nelson
The Battle of Trafalgar
As flagship of Rear Admiral Baltasar Hidalgo de Cisneros, and commanded by Francisco Javier Uriarte, the Santisima Trinidad joined the combined Franco-Spanish fleet on October 21st, 1805, at the Battle of Trafalgar. For five brutal hours, the 23 French ships and 13 Spanish ships waged a fierce battle against the 32-strong British fleet led by Lord Nelson. Unfortunately for the Trinidad, her bulky helm meant she was difficult to steer in light winds, and left her open to constant enemy fire. Battered by a concentrated attack by multiple ships, she lost her mast and was eventually captured by the 98-gun Neptune commanded by Captain Thomas Fremantle. She was subsequently towed by the Prince, but her size and stubborn manoeuvrability resulted in her being scuttled, where she remains to this day.
Though she is currently lost to the sea, the Santisima Trinidad remains a symbol of Spain's might on the ocean. For a time, she was the most powerful ship in the world, and her memory lives on in history books, and in the minds of maritime lovers. We live in hope that she will one day be rescued from the depths, and displayed for all to see in a maritime museum. Until then, we recommend admiring a smaller version, with your very own highly-detailed 1:90 scale Santisima Trinidad replica! With this stunning scale model, you'll not only build a historically accurate replica of the famous ship, but also a cross-section model, which provides an amazing close-up view of the interior workings. Order yours now and capture your own piece of Spain's naval history!