ModelSpace Scale Modeller of the Month – February 2017
For many scale modellers, completing an accurate replica of their favourite car, plane, tank, ship or train is all the satisfaction they need. But for others, adding detailed modifications and showcasing their personal flair gives them an even stronger sense of pride.
This month's Scale Modeller of the Month started his scale modelling career only six years ago, but has been prolific ever since, building more than 30 models so far with several more underway. Having built some truly impressive scale models, we are happy to announce Andreas Draisbach as our February Scale Modeller of the Month!
1) What made you start building models? Do you remember your first scale model?
My first model I built was the Ferrari F2004 by Michael Schumacher. When the ModelSpace advertisement ran on TV I knew I must have it, so I bought it right away 🙂
When my modifications worked out I was happy
I gradually purchased the tools I needed for building model, and then I began to modify the Ferrari. The more I "screwed" and modified, the more my love of model building grew. When my modifications worked out I was happy, and from that moment on my modifications became more extreme and detailed from model to model.
2) How long have you been making models for?
I have only been building models for 6 years now, and during this time I have gradually acquired my skills, with the help of some experienced model builders who gave me many great tips on how to build scale models.
I have since specialised myself on modifying. I enjoy the challenge of adapting from the original, and it brings me the most happiness when it works as well 🙂
Andreas' completed De Agostini ModelSpace 1:4 scale Suzuki Hayabusa motorbike
Many of my friends say I have two sides that absolutely contradict each other. On the one hand, I am an adrenaline junkie in sports, and on the other hand, I can sit down quietly and work on models without getting me out of the serenity.
3) How many models have you built to date? Do you have a favourite?
So far I have built 32 models, and I have 6 more projects under construction.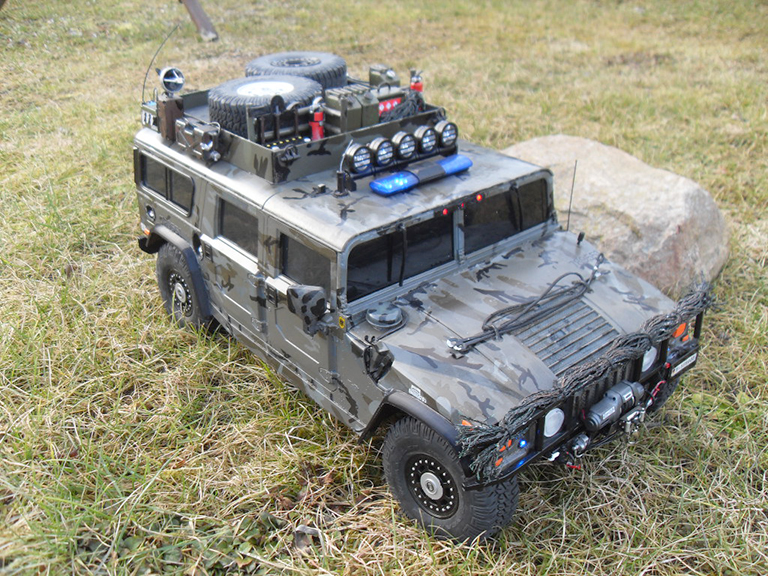 Andreas' customised De Agostini ModelSpace Hummer H1 RC model
One of my favourites is my Hummer H1. I am very proud of the completed model with all of its modifications – this was also exhibited last year in Dortmund at the Intermodellbau trade fair 2016, on the ModelSpace stand. All attachments functioned as I had planned them – the model weighs 7.2 kg, it has a Big Block LRP engine with 3 Horsepower, electric windscreen wipers front and rear, as well as an electric winch with 1 kg lifting force. The camouflage I applied with a method called water transfer printing. The Hummer H1 also has complete functional lighting, low beam, high beam, turn signal and brake lights, and I have built a trailer using Hummer H1 body parts.
This was also exhibited last year in Dortmund at the Intermodellbau trade fair 2016
The second model is the Millennium Falcon – I currently have some extreme modifications underway. All the landing, position and caution lights have been replaced, and the blaster inserts of the Millennium Falcon are modified with LED´S so that it looks like the blaster marks are burning. Now I am busy replacing the six fan dummies off the Falcon by mounting six electric motors. I have also installed a sound module with an engine sound, and when the engine sound runs each fan starts until all six are running.
Andreas' in progress De Agostini ModelSpace 1:1 Millennium Falcon model
4) What is the hardest part of the model making process?
I would not call the process "difficult", you just have to consider your individual steps before you begin. The most important thing in modelling is good project planning if you want to make additions or changes. I think through every detail beforehand. Every model builder wants to implement his ideas and create a unique model. What's very important to me is to think about the steps and stages of construction – what, when, where must some parts be installed.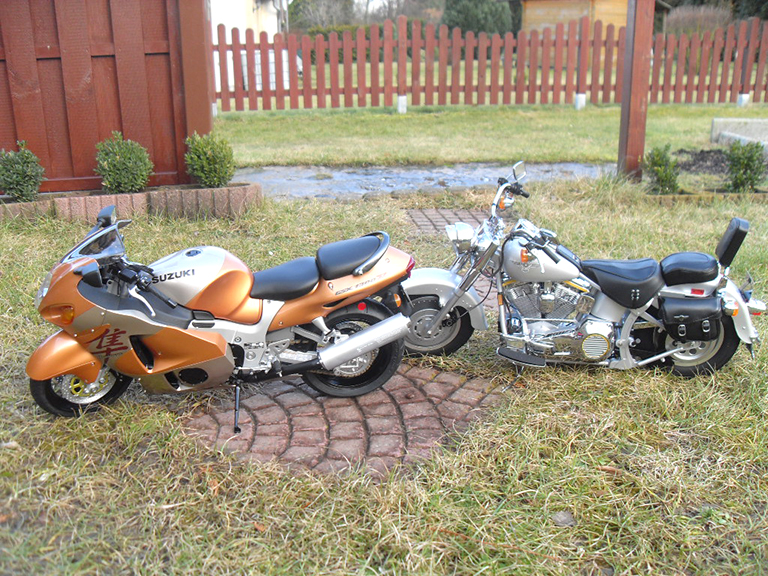 Andreas' completed De Agostini ModelSpace Suzuki Hayabusa and Harley-Davidson Fat Boy models
5) Are there any special tools or techniques you use?
One of the most predominant techniques in model building is painting and airbrushing. I also work with airbrush and paint, but my speciality is working with water transfer printing. I taught myself this method, and now I achieve very good results by using it on my models. In the UK ModelSpace forum, I have written topics in model know-how about this procedure, so that other model builders can apply this to their models if they want to.
6) Of the models you have built, which would you like to own a full-sized version of?
The Millennium Falcon :-):-):-)!! No, I would like to have the Jaguar E-Type!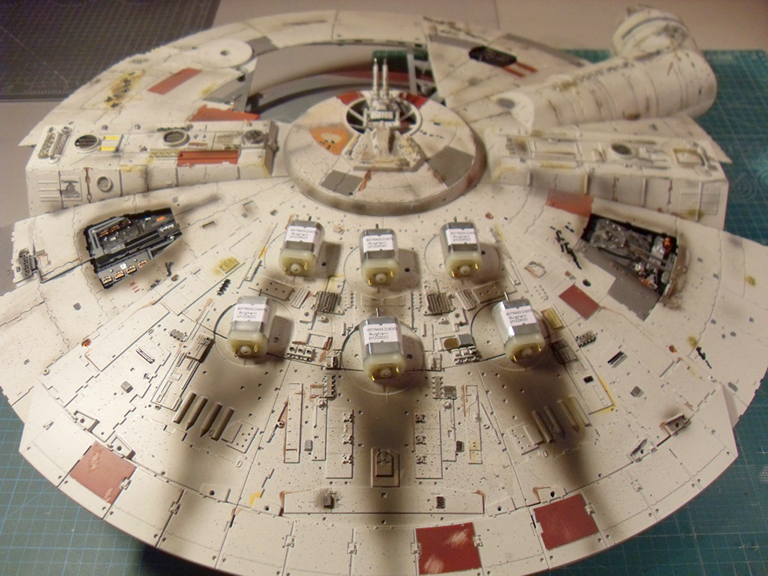 Andreas' in progress De Agostini ModelSpace 1:1 Millennium Falcon model
7) What is the biggest lesson you have learned from building models?
As a model builder you have to be able to learn from the mistakes you make. Also, the inclusion of healthy criticism is important, so that next time you do not repeat your mistakes again. Personally, it is very important for me to stay on the ground, and give my experiences and know-how to other model builders. I believe they should also have fun with their models and achieve nice results through what they are doing.
Would you like to be our next ModelSpace Scale Modeller of the Month? Or is there someone else you can recommend? If so, please add a comment below, or get in touch via our Facebook, Twitter, Instagram, Google+ or Pinterest channels – remember to tag us in any of your scale model photos or videos! We are constantly amazed by the impressive models you build, and can't wait to share more scale modelling stories with the community!