ModelSpace Scale Modeller of the Month – December 2016
No matter what your experience level is, every scale model is an opportunity to test and improve your skills, and to build a car, plane, train, or ship in your own vision. The choice is yours to follow the instructions exactly, or add your own additions to suit your personality and style.
The December Scale Modeller of the Month began building in his teenage years, and picked it up again several years later, developing his special style and delivering some incredible results. It is our honour to introduce you to Mark Warren, follow his scale modelling journey and learn his insights in this month's interview!
1) What got you into scale modelling? Do you recall your first model?
In my teenage years and still living with my parents, we had a neighbour whose hobby was building scale models, cars, tanks and mostly aeroplanes. His collection of models was displayed in one giant cabinet and they were like nothing I had ever seen before. This inspired me to have a go at modelling myself. Whilst in the latter years of school, I bought my first model which was a Messerschmitt Me 262. So, with a few hints and tips from my neighbour, I built my first real model. Sadly, it's no longer with me, but I remember it very well, painting the mottled effect colours and how they blended into one another, also putting plasticine in the front nose cone to weigh it down.
Although I enjoyed making these models, my passion at the time was sketching and painting watercolour pictures, which I used to exhibit in the local art gallery.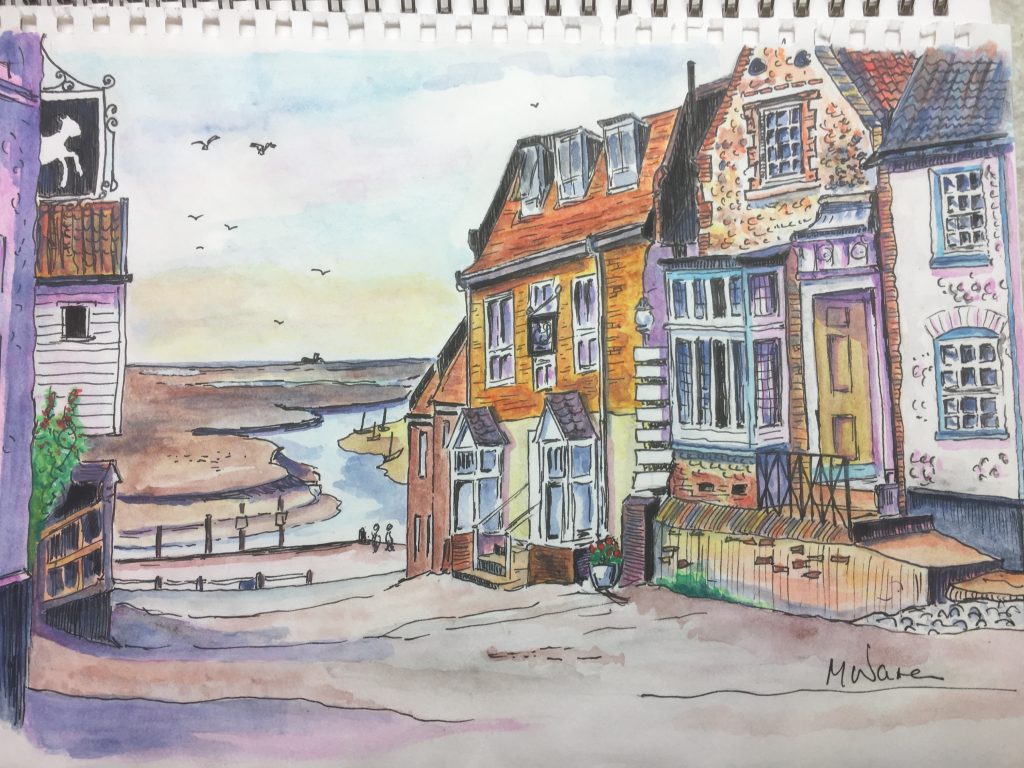 One of Mark's sketches, completed while on holiday in Norfolk
Many years on, while raising my family, my painting and sketching was taken over with weekends of football and other activities. As the boys got older, I started to paint and sketch again, but found that, after a couple of years, the passion I used to have for it wasn't there anymore.
I have always been a Sci-Fi movie fan, and when I saw a TV advert to build the Millennium Falcon, I just had to place my order, there and then. Wow, if anyone would have told me that I was to find my new-found passion, I wouldn't have believed them. What started out as just a hobby I could build in my spare time, has gone onto something that I would have never imagined in my wildest dreams.
2) Which model are you most proud of?
Things have changed since my first model all those years ago, with different mediums to paint with. I decided I would use oils and pigments to paint this ship with. It was like painting all over again, only on a 3D canvas. This is the model I will treasure when finished, as this will be the one that got me into scale modelling.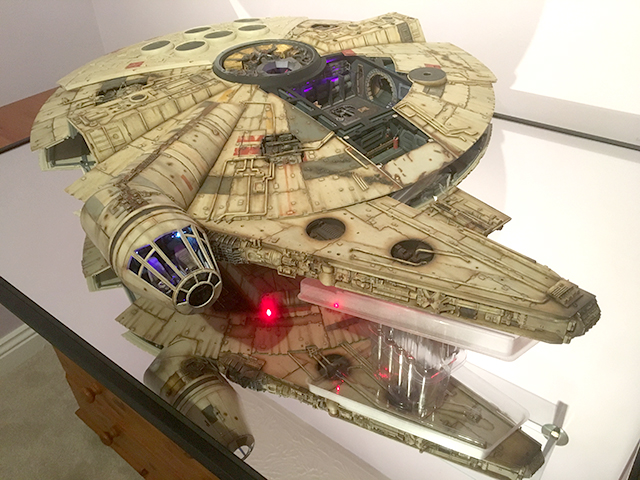 Mark's completed De Agostini ModelSpace Millennium Falcon scale model
3) What's the hardest part about any build project?
The hardest part of building any model for me, is knowing when to stop when you are having an off day. What I should have done was just to put it away and start with a fresh mind, as many times I've continued and got frustrated.
The hardest part of building any model for me, is knowing when to stop
4) Your Millennium Falcon has some incredible detailing and additions – what inspired you to add those touches?
I think it was some way through the build that I decided to put extra detailed parts into this model. I bought books and looked at reference pictures online to gather as much information as I could get. Having painted the model with oils to give it that realistic look, I decided to push the boundaries and have a go at some scratch building and lighting effects. I would sit and draw for hours, planning how I wanted it to look, before setting to.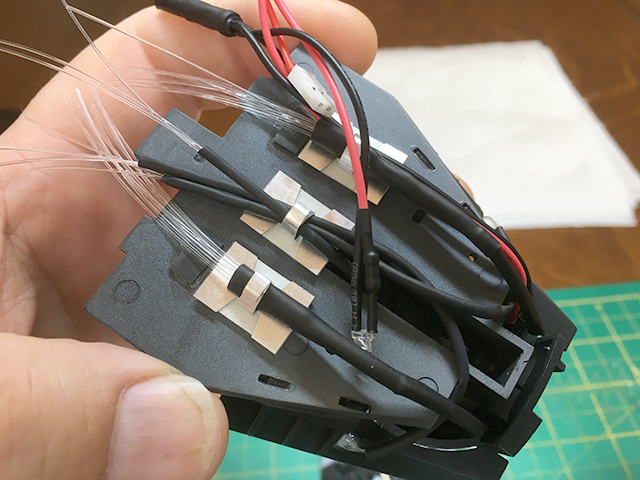 Fibre optics on Mark's Millennium Falcon scale model
I have taught myself how to use fibre optic cables, LED lighting, all of which I have never used before. Okay, so I have made a few mistakes along the way, but seeing this model come to life has given me so much enjoyment. I'm already planning my next few models once this has been completed.
It was a great honour to be able to do a customised build and show all my experiences with other modellers trying to do something similar. As I have said before, if I can help just one person to achieve something they would have otherwise been afraid to have a go at, then I've achieved my goal.
It was a great honour to be able to do a customised build and show all my experiences with other modellers
5) Where do you keep your finished models?
I have only just recently bought an acrylic display case for the Millennium Falcon, which will now take pride of place in my eldest son's old bedroom, now he has moved out. The room has had a full makeover over the last few weeks, and although I've told the wife it will be the guest room, all my other movie memorabilia is now displayed around the room.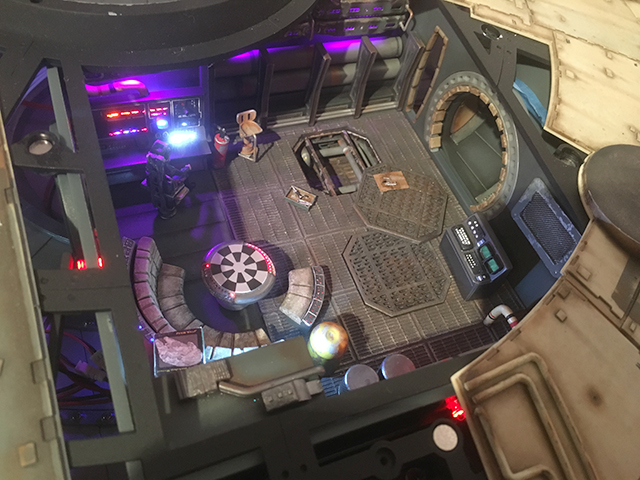 Interior of Mark's Millennium Falcon scale model
6) Are there any other scale modellers whose work you admire, or who inspire you?
I would like to thank many of the forum members who have over the years given me the inspiration to achieve things that I would otherwise never have thought possible, and helped get me to where I am today. Never in my wildest dreams did I ever think I would have done this at the beginning of this project. Thank you to you all.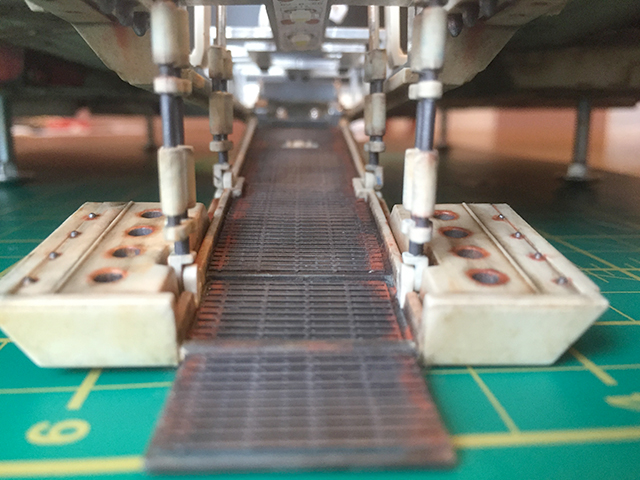 The retractable ramp on Mark's Millennium Falcon scale model
If you would like to be our next ModelSpace Scale Modeller of the Month, please contact us via our Facebook, Twitter, Instagram, Google+ or Pinterest channels, and don't forget to tag us in your completed and in progress scale model build photos and videos! We look forward to seeing more of your incredible work, and sharing your scale modelling stories with the community!