Soleil Royal – History of the Legendary French Ship
Scale model ship building is an absorbing hobby, and it can be a true joy to find a model that accurately captures the fine details of the original ship. When it comes to Baroque era ships, there were few that combined power and beauty quite like the Soleil Royal. Built in Brest, France in 1669, the ship was named after the Sun King, King Louis XIV, and was adorned with sumptuous wooden carvings in his honour.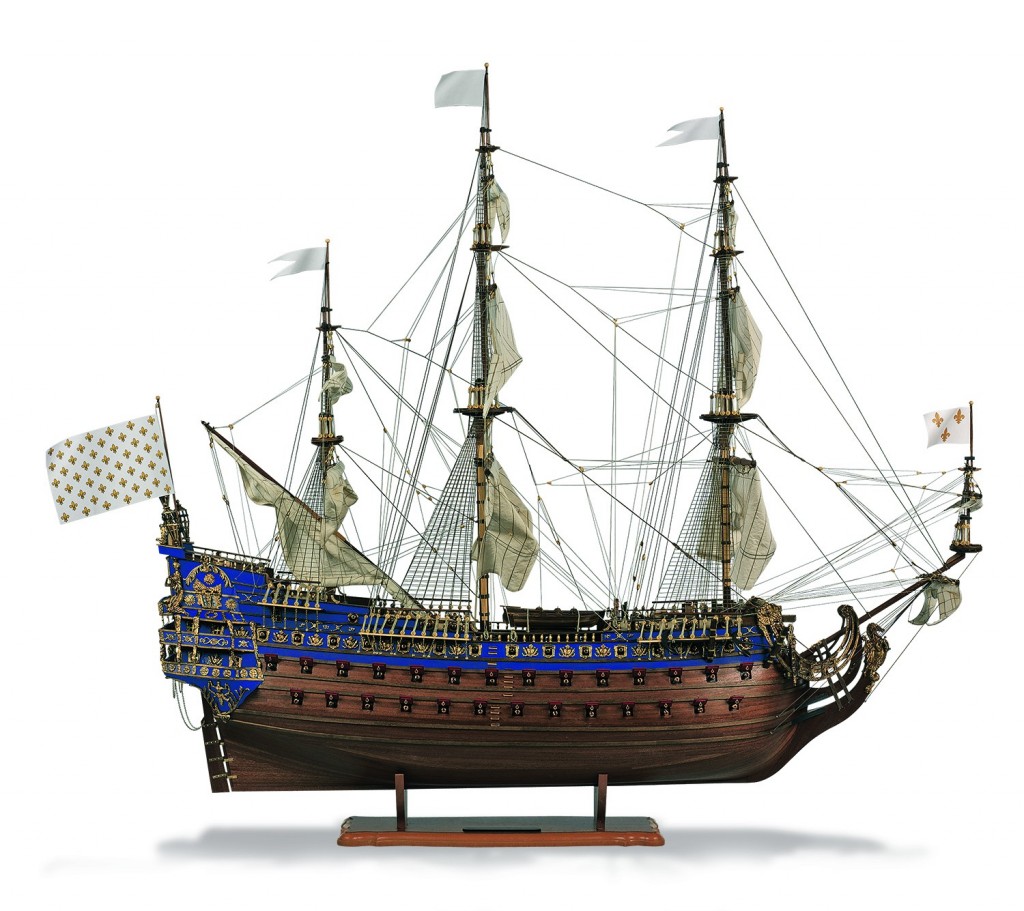 Though the ship's career was relatively uneventful for large periods, its involvement in two great battles, combined with its lavish carved ornamentation, was enough to ingrain the Soleil Royal in French and English naval history.
Rise of the Sun King
King Louis XIV was born on September 5th, 1638, inheriting the crown at only 4 years of age after his father Louis XIII passed in 1643. He reigned for a total of 72 years and 110 days, the longest reign of any known European sovereign, and during his reign he oversaw the transformation of the French monarchy, introduced a golden age of literature and art, and established France as the most dominant force on the continent prior to the War of the Spanish Succession (1701-1714).
During his reign he oversaw the transformation of the French monarchy
Later known as Louis the Great, he saw himself as God's representative, and used the Sun emblem to appear as an omniscient, infallible Roi-Soleil (Sun King) in the eyes of his entire realm. This imagery was widely accepted, and resulted in the Soleil Royal's prestigious name.
A Bold and Beautiful Ship
In order to truly honour the Sun King, the Soleil Royal was built with ability and grace in mind. Launched in 1669 from Brest, she boasted 104 cannons, but it was her artistic embellishments that first caught the eye of onlookers. Her taffrail was adorned with a dramatic rendering of a horse-drawn sun god stretching across the sky, with an ornate figurehead depicting winged maidens on either side of a seahorse.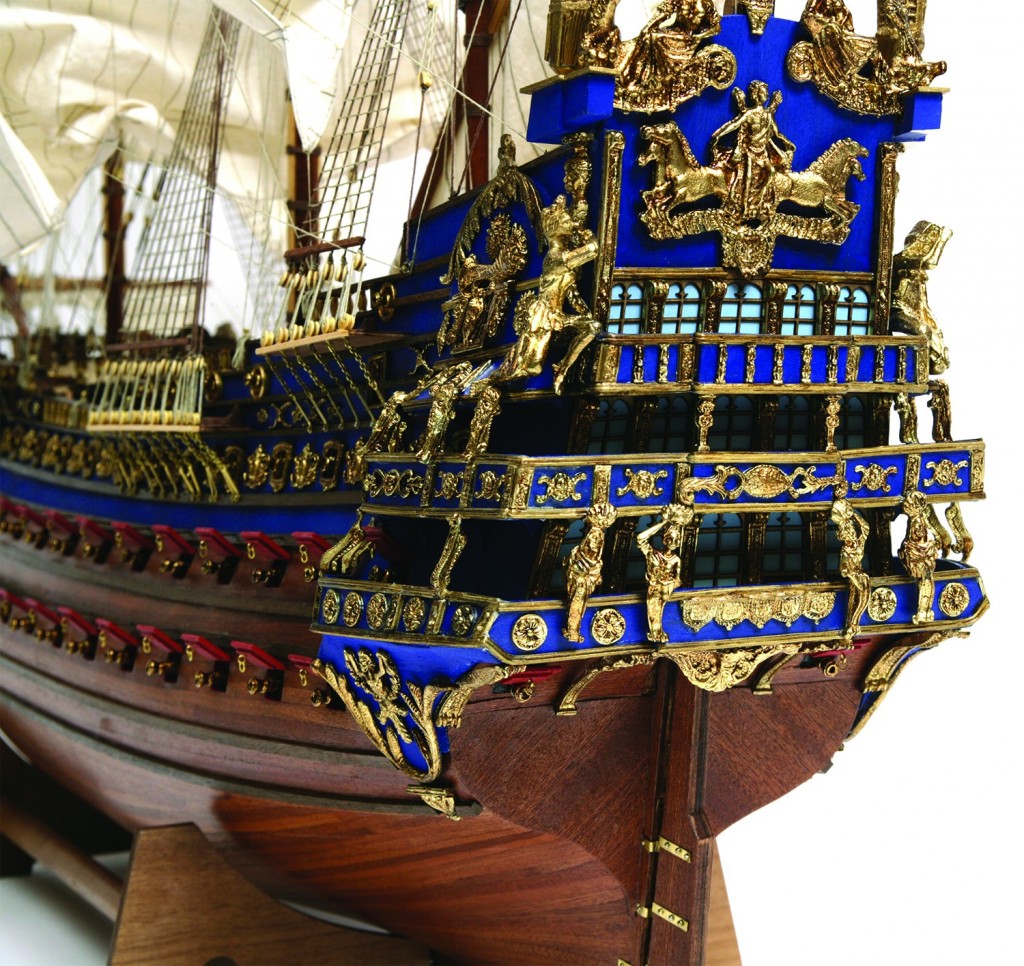 Additional carvings further demonstrated the Soleil Royal's elegance, with golden wales, strakes and other flourishes nicely accenting her startling navy blue hull. Such was the beauty of the Soleil Royal that drawings of the ship's statuary by artist Charles Le Brun can be found in the Louvre in Paris.
The Battle of Beachy Head ("Bataille de Béveziers")
In July 1690, the Soleil Royal (now with 112 cannons) sailed as the flagship for the French Navy, under the command of Anne-Hilaron de Cotentin, Comte de Tourville, Admiral of the French fleet. With a fleet of seventy ships, Tourville was tasked with seeing off a combined force of English and Dutch ships off Beachy Head near Eastbourne.
Part of the Nine Years' War, the battle culminated on the 10th of July and lasted approximately eight hours, ending in the greatest French tactical victory over their Dutch and English counterparts during the war. In total, the Dutch and English lost a total of seven ships of the line (sources vary), as well as three fire ships, while the French ended the battle without a single loss.
Fall of the Soleil
Two years after the success at Beachy Head, Admiral Tourville sailed out of Brest with a fleet of forty-four ships, the Soleil Royal his flagship once again. He was now tasked with clearing the English Channel for King Louis XIV's 30,000 strong invading force stationed near Chembourg.
They met an Anglo-Dutch fleet of eighty-eight ships near Pointe de Barfleur, and despite his own opinion and the advice of his officers being against taking action, Tourville was bound by strict orders from King Louis XIV to engage in battle. The fight raged on but was ultimately indecisive, leaving damaged ships on both sides – the Soleil Royal sustaining heavy damage.
Tourville was bound by strict orders from King Louis XIV to engage in battle
While Tourville transferred his flag to L'Ambiteaux and departed the scene of battle, the Soleil Royal and two other ships were in such bad shape that they were forced aground at Cherbourg. Though they put up a good fight, all three ships were eventually destroyed by English fireships. The Soleil Royal's remains now lie buried next to the Arsenal, under a parking space.
Today, the Soleil Royal's memory remains one of beauty, elegance, and power, and is synonymous with France's cry of courage. Our 1:70 scale model of the Soleil Royal stands at 1020mm long and 870mm tall, and faithfully captures her fine detail. With 12-month and 24-month options available, you can build your very own replica of this phenomenal ship at your leisure, learning as you go.