Harley-Davidson Fat Boy – History of a Motorcycle Legend
There's nothing like a Harley-Davidson. Whether you're a hardcore fan, casual rider, or have never ridden a motorbike in your life, you can't deny that the Harley is one of the most recognisable vehicles to have ever graced our roads.
The FLSTF Harley-Davidson Fat Boy holds legendary status in its own right, and with 25 years of history behind it, we've taken a look at what makes this bike so special.
An instant classic
Designed by Willie G. Davidson and Louie Netz, the Harley-Davidson Fat Boy debuted in 1990, becoming immensely popular in very quick time. With a 1340cc, 80 cubic inch V twin engine, softail frame, characteristic solid disc wheel, shotgun exhaust, hand-laced leather seat and gunmetal grey finish with distinct yellow trim, the Fat Boy's "handmade" style took the world by storm and has since become synonymous with US patriotism and nostalgia.
The Harley-Davidson Fat Boy debuted in 1990, becoming immensely popular in very quick time
The way it rides
Naturally, the Harley-Davidson Fat Boy has a heavier feel to it, so if you're expecting the lightweight zip of a Suzuki or Honda, you're on the wrong hog. But while it may initially seem slightly underpowered, riding it long enough will open your eyes, ears, and body to what it really feels like to ride a Harley, with a steady power that pulls you in and doesn't let go.
Its lower centre of gravity makes handling in low or high speeds much simpler, and after a long ride, the low leather seat and pullback handlebars will leave your body in a more comfortable place than can be expected of other bikes. The distinct roar of the Harley-Davidson Fat Boy is something you soon get used to, and empowers you with an unrivalled sense of 'cool'.
The distinct roar of the Harley-Davidson Fat Boy is something you soon get used to
A controversial name
The name "Fat Boy" comes from the fact that the bike is indeed fat – its appearance wider than most other bikes when viewed from front-on. But while this may be the story that Harley-Davidson will forever stick to, there is another theory behind this motorcycle's iconic name.
As the rumour goes, the Harley-Davidson Fat Boy was designed as a morbid yet patriotic tribute to the bombing of Japan during World War II. As farfetched as this may seem, here is the evidence presented to support such a claim:
"Fat Boy" is an amalgamation of the names given to the two atomic bombs that were dropped on Hiroshima and Nagasaki – "Fat Man" and "Little Boy"
The colour of the Harley-Davidson Fat Boy is similar to that of the Enola Gay and Bockscar – the Boeing B-29 Superfortress bombers which dropped the atomic bombs
The bike's solid disc wheels resemble those used on planes such as the B-29s
The yellow rings on the motorbike are allegedly the same as those on the two atomic bombs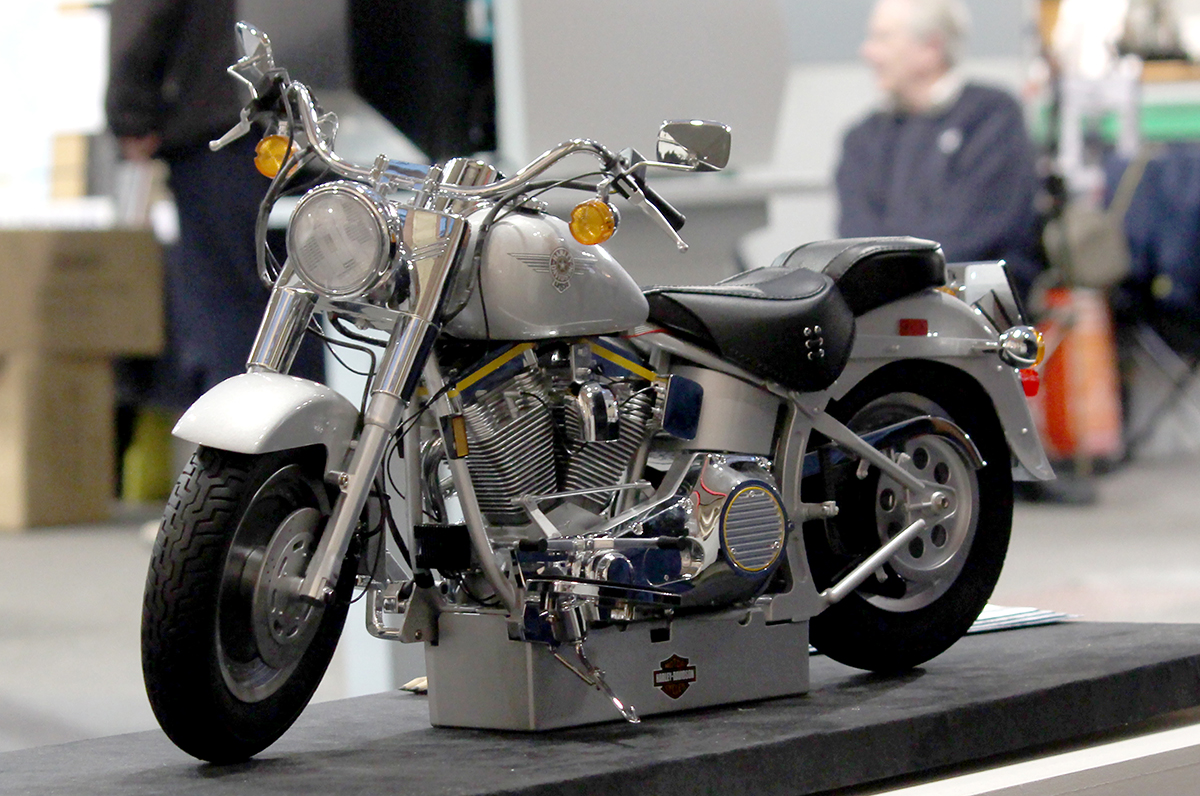 A film and television icon
For many non-riders, the first glimpse they had of a Harley-Davidson was the starring role it played in James Cameron's classic science fiction film – Terminator 2: Judgment Day. After swiping the Harley-Davidson Fat Boy from a truck stop diner, Arnold Schwarzenegger's Terminator rides off into the night – the epitome of cool.
In case you haven't seen the film, here's a highlight reel of the famous motorbike in action:
The Fat Boy made a triumphant return to the Terminator series in Terminator: Genisys, and has appeared in dozens of films and TV shows including Seinfeld, CSI: Miami, Wild Hogs, and Sons of Anarchy. Here is a more extensive list of its film and television appearances, if you are keen to learn more: http://www.imcdb.org/vehicles.php?make=Harley-Davidson&model=Fat+Boy&page=1
If you'd like to get your hands on this piece of Harley history, ModelSpace is proud to offer a beautiful 1:4 scale replica of this legendary motorcycle, brought to life in stunning detail. With more than three quarters of the model made of solid die-cast metal, this is a must-have model for any motorbike enthusiast.
SOURCES:
http://www.harley-davidson.com/content/h-d/en_US/home/museum/explore/archives/did-you-know/vehicle-profile.html
http://www.hogrides.info/harley-davidson-fatboy.htm
http://www.snopes.com/business/market/fatboy.asp
http://sumpmagazine.com/harley-davidson/harley-davidson-fat-boy.htm
http://www.dudeworld.com.au/ARTI.FATBOY.HTML