ModelSpace Scale Modeller of the Month – April 2018
From old school cars, to historic warships, fighter planes, and pop-culture icons, our scale model community is full of inspirational model makers. With more than 40 years' of scale modelling experience, including some seriously impressive model ships, we're proud to introduce Jason Port as our April Scale Modeller of the Month! Check out some of his build photos below, and learn what motivates him to keep building scale models!
1) How old were you when you first started building models? What was it that drew you to this hobby?
According to my Dad it was my 8th birthday. I actually remember my first model kit – it was a 1:72 Airfix Spitfire. My Dad helped me build it and and we painted it blue. I must have enjoyed it, as for years after that I got model kits for my birthday and Christmas presents. When I started out in the hobby I built all sorts of things, whatever I was given. I can recall some of them – a Chinese junk, the QE2, a North Sea oil rig, and a 1:72 scale Millennium Falcon with working lights.  
But when I had my own money the models I built reflected my love of history, especially naval history. When you build a model you get close to a subject and it brings to life what you know about it, for the time you're building the model you're totally immersed in it. That is what has kept my interest in models for 40 years, and as you get more experience you start wanting to add detail to the model or correcting it or doing a different variant than the manufacturer intended.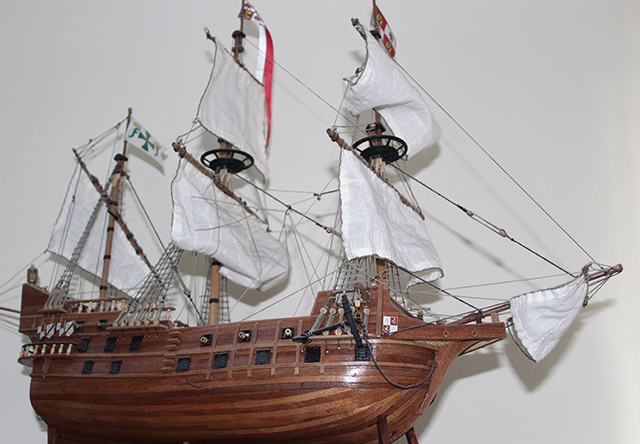 Jason's DeAgostini ModelSpace San Francisco II model ship
These days I tend to build a kit because it blows me away in some way – it has to be something that really excites me and draws me into the subject. Over the last couple of years I have found an increasing fondness for revisiting kits I built as a kid, and very recently built my very first kit again and I painted it blue.
2) What is your favourite part of the model making process?
Generally it's the building, in fact I see painting models as a necessary evil – I don't really enjoy that bit at all. If I am building a plastic kit it's the moment that you have enough parts together to be able to recognise what you have. With wooden ships it's a bit different – it's the moment the hull and deck is finished and you're about to add the deck detail. Detail is something that drives my modelling and generally if I can add detail I will. There are some very detailed models out there, but I have yet to find a model that didn't need altering in some way to be 'correct', and that can be just as much fun as the whole build.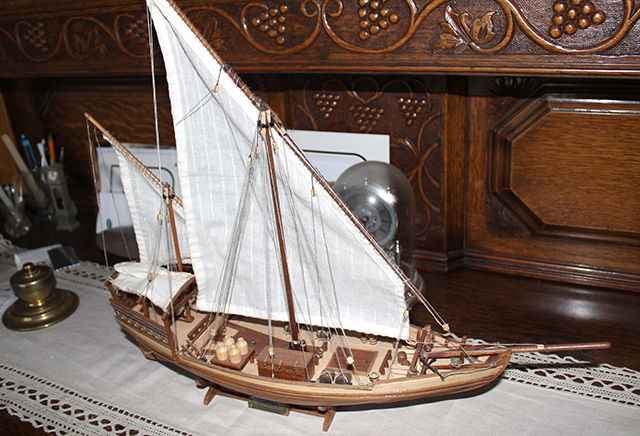 Jason's DeAgostini ModelSpace Sultan Arab Dhow model
3) If you could build a scale model of anything, what would you choose and why?
That's very easy. HMS Anthony – she is an A class destroyer from the 1930s that was at some major events in the early war years – Dunkirk, sinking of HMS Hood, Spitzburgen, and famously rescuing school kids after the sinking of SS City of Benares. Of the many ships my grandfather served on, Anthony was his favourite. Unfortunately there are no A class destroyer models and it is unlikely there ever will be. I did try and persuade one of the small resin manufacturers to do one but they were not up for it.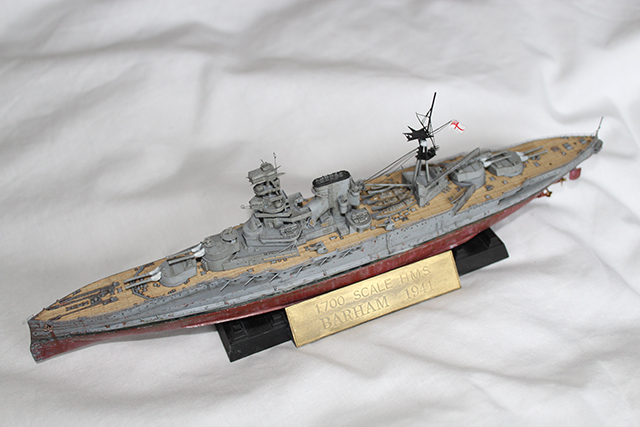 Jason's HMS Barham 1941 model
4) Which finished model would you say you are most proud of?
Oh gosh that is so difficult a question. All completed builds are special at that moment and all can be improved. I think in recent years it would be my Arab Dhow, it was the first wooden model boat I ever finished, and I got a ModelSpace yellow medal for that build. It was ModelSpace that introduced me to wooden model ship building when they brought out HMS Victory 8 years ago, and wooden ship building has become an absolute passion. It's so different to building plastic kits, with different skills and craftsmanship required. Currently I am collecting the new Vasa ship model and building the USS Constitution.
5) What is the longest you have ever spent on a single model?
That's a little difficult to answer as I don't tend to build a model from start to finish in one go.  When I was younger I had a train set that took up 2/3 of my bedroom. I spent 10 years adding 1:72 scale military models, turning it into one massive diorama, so you could class that as the longest. However, I also took 2 years to build a Titanic model, it was the first time I had ever used etch and it had railings and tiny benches to get my head around – nothing like the deep end to learn a new skill.
6) Are there any other modellers that inspire you, or have helped you?
Absolutely. The first is Spencer Pollard, he was the editor of one of the modelling magazines for some time. Until I discovered ModelSpace my hobby was a very solitary affair, so model magazines were the only way for me to see what others were doing; I still follow his work now.  Brian King is a world renowned ship modeller and author whose work I admire, I have his books on the subject.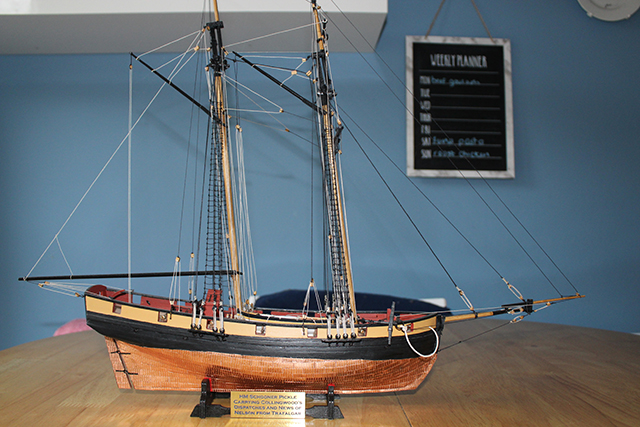 Jason's HM Schooner Pickle model
I find there is always something new to learn, and generally those members of ModelSpace who choose to share their work and help others are a great inspiration, although two members of ModelSpace stand out for me. I love the work and attention to detail of Jack Aubrey – his ship builds are stunning, and Ken aka kpnuts – I love his imagination and creativity.
7) What is one lesson you wish you had known about scale modelling when you first started?
Keep your workspace clean and tidy, it took me a surprising long time to get how important it was. The number of paint finishes I have had blemished by dust and parts I have broken trying to find a tool when I was younger is countless. These days I tidy up and wet wipe frequently, it's probably my top tip to anybody.
Do you know any scale modellers that deserve to be featured? Get in touch via the comments below, or contact us via Facebook, Twitter, Instagram, Google+ or Pinterest! We also want to see your scale modelling progress, so share your build photos with us as well!