Volkswagen Beetle History – The Little VW That Could
Combining a unique design with reliability and a splash of charm, the Volkswagen Beetle is one of the world's most popular cars. 21 million sales across its 65 year production run also makes it the fourth highest selling car of all time, a marvellous achievement for a vehicle once deemed "too noisy and ugly". So how did such a famous bug come to be, and why was it so successful? Read on to explore the Volkswagen Beetle history – its emergence evolution, and cultural impact, and sign up today to be one of the first to build your own 1:8 scale VW Beetle 1303 Cabriolet!
Conception and Development
The first ever VW Beetle rolled out into the world in 1938, but it was first imagined back in 1931 by Ferdinand Porsche, who developed the Porsche Type 12 with motorcycle manufacturer Zundapp. Known as the "Auto fur Jedermann" or "Car for Everyone", the first prototype came with a steel platform chassis and a "swing-axle" rear suspension, giving it superb traction and steering. Further prototypes were developed over the next two years, but it wasn't until a certain Adolf Hitler's involvement that the first VW Beetle saw the open road.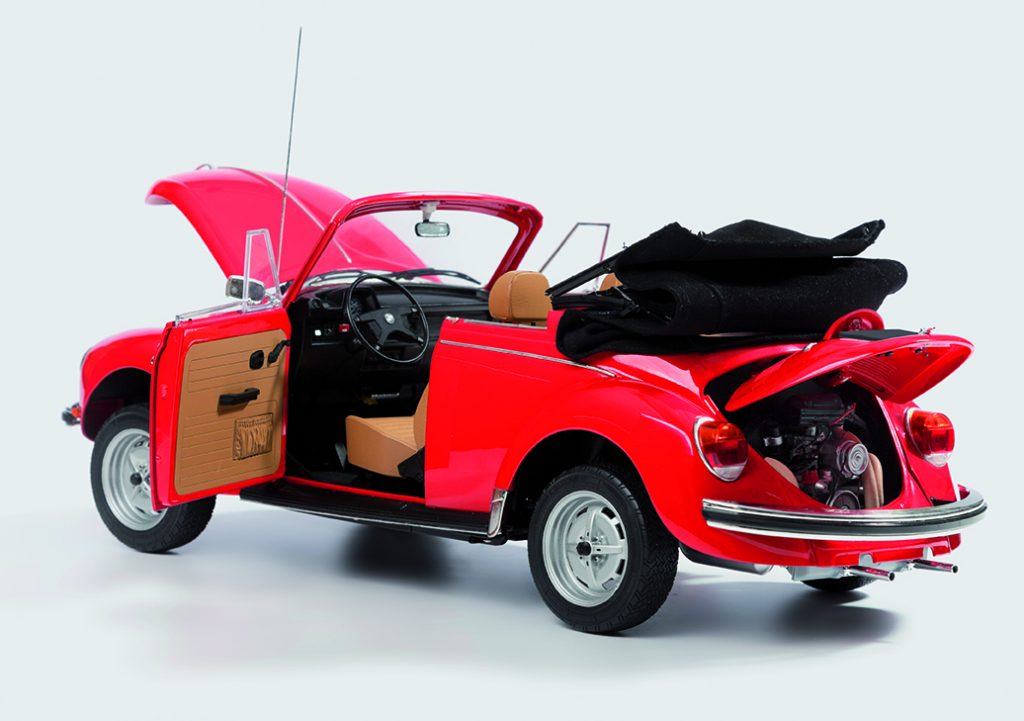 The People's Car
When you think of automotive innovation, Germany is likely one of the first countries that springs to mind. But following the First World War, the Germans were left playing catch up to the automotive progress seen in Britain and America. When Adolf Hitler came to power in 1933, he sought to change this, and in turn the overall fortune of his country, by overseeing the creation of the "Volks Wagen", or "People's Car" – an important development in Volkswagen Beetle history.
Originally called the Porsche Type 60, this car was meant to carry two adults, two children, and their luggage, and should reach a cruising speed of 62mph (100km/h) with ease. Hitler's goal was to mass produce a small, cheap car that would rival the Ford, and be a shining example of Germany's automotive innovation.
Once World War II commenced, the Volkswagenwerk factory in Wolfsburg was used to create military vehicles
Alas, only 600 were produced in 1938, mostly provided to regime leaders, and once World War II commenced, the Volkswagenwerk factory in Wolfsburg was used to create military vehicles instead.
Post-war Success
Despite promising signs during its prototype stages, the Volkswagen saw a poor reception from Allied Nations following the Second World War, with many seeing it as Hitler's car. On top of this stigma, it was also seen by some as being a sub-standard vehicle, with Henry Ford once saying "I don't think what we're being offered here is worth a damn." In spite of this lukewarm reception, the VW arrived in the United States in 1949 and became an overnight hit.
Contributing factors to this success included its compact size, efficient and reliable engineering, unique shape, and affordability. It went against the grain of typical US cars of the time, which were larger and more conventionally shaped. But there was now major appeal among younger, educated consumers for a compact, simple, and economical vehicle – this saw a positive shift in Volkswagen Beetle history.
"Anti-ads" transformed the car's weaknesses into its biggest strengths
Another reason the Volkswagen Beetle became a household name is due to an amusing series of "anti-ads", which transformed the car's weaknesses into its biggest strengths. Brutal honesty gave the car wide appeal, with slogans such as "ugly is only skin-deep," "live below your means," and "it makes your house look bigger" proving a hit with consumers.
A Beetle by Many Names
With its unique shape and size, it should come as no surprise that the Volkswagen Beetle has a list of many other names from around the world. Some of these include the Frog, The Turtle, the Flea, the Little Egg, the Ladybird, and the Bubble. In Mexico it is known as the Vocho, and in Denmark it is called the Hitler Sled and the Pregnant Roller Skate! Whatever you call it, there's no doubt that the VW Beetle is a globally recognised icon.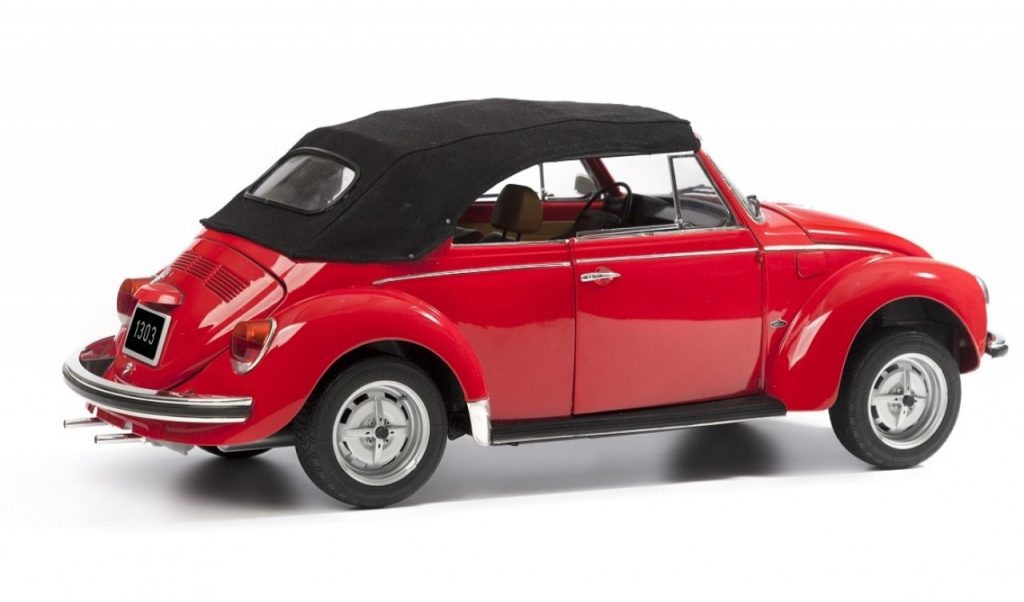 A Pop Culture Superstar
The VW Beetle may have conquered the roads of the world, but that wasn't enough for this quirky little car. Being the world's fourth highest selling car gives you a little clout in Hollywood, and it has certainly taken advantage of that fame. The VW Beetle made its silver screen debut in Alfred Hitchcock's Vertigo, but was a break out star as Herbie, the lovable car with a mind of its own in 1968 film "The Love Bug". Below is an overview of its man on screen appearances:
Vertigo (1958)

Double Trouble (1967)

The Love Bug (1968)

Herbie Rides Again (1974)

Herbie Goes to Monte Carlo (1977)

Herbie Goes Bananas (1980)

Happy Gilmore (1996)

The Shining (1980)

Footloose (1984)

Big Lebowski (1998)

Fight Club (1999)

Skeleton Key (2005)

Herbie: Fully Loaded (2005)

Once Upon a Time (TV series, 2011-2018)

Bumblebee (2018)
Produced from 1938 through 2003, the Volkswagen Beetle has rightfully become one of the world's all-time favourite cars. Though there have been several types released over the years, the Cabriolet is possibly the most popular of them, and the 1303 'Super' version is perhaps the best. Better handling, increased boot space, and a wraparound windscreen are just some of the fine features that make this car such a classic.
What is your favourite moment of Volkswagen Beetle History? And have you ever wanted to own a VW Beetle? Now you can, with our 1:8 scale Volkswagen Beetle 1303 Cabriolet!