ModelSpace Scale Modeller of the Month – December 2017
Although it is entirely possible to build just the one scale model and walk away, our experience tells us that for most people, one is never enough. There is a real sense of joy when choosing your next model – be it a car, ship, plane, motorbike, or Star Wars replica – and even more joy when you put it together.
With many fantastic models built over the years, Roy Fitzsimmonds is our December Scale Modeller of the Month! Check out his scale model tips, photos, and story below!
1) What was your first scale model? Do you still have it?
It was the Airfix 1/32 Bentley Blower. I remember really enjoying the build. I guess I was about 10-11 years old. Even though it was my first kit, I remember that I painted it bright red.
After that, the hobby was in me. I don't have that model now – it was about 50+ years ago. However, I recently bought the same kit from Ebay. An old, original bagged version with the folded instructions as the bag header. It's never been opened and I don't intend building it. It's a bit of a time capsule for me.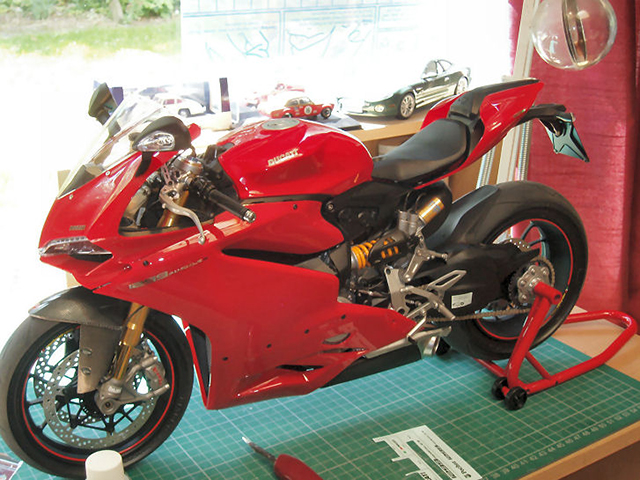 Roy's Ducati Superbike 1299 Panigale S
2) What's one piece of scale modelling advice you would give to beginners?
A difficult one. If I had to pick only one thing, it would be to never be 100% happy with your work. You should always try to be better. It doesn't mean you need to be an expert, artist, genius or anything. Just to be better than you currently are, next time. I suppose it's called experience, and it grows over time.
If you're always completely happy with your work you aren't going to strive to be better.
Also, be patient. OK, that's two…
3) Do you have a favourite model? If so, what makes it stand out for you?
If you mean one I've built, it would be my 1/8 scratch built full detail Aston Martin DBR1. It's on the forum somewhere I think. The model is now in a high end classic car showroom in Kensington, along with 3 other models I built for the owner, Gregor Fisken. If you mean models 'off the shelf' then I'd possibly pick the Airfix 1/32 E Type Jaguar. Yes, awful, old tooling, poor fit and missing parts but it has huge scope for modding into all kinds of versions. I even made an E2A from it. Cheap kit – tons of fun. Value for money.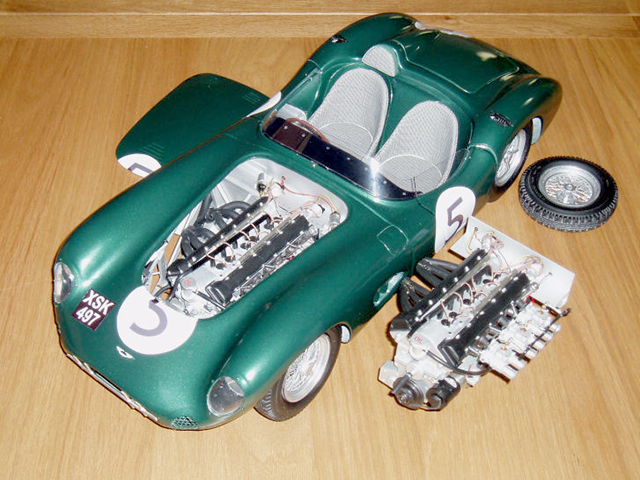 Roy's Aston Martin DBR1
4) Are you building any ModelSpace models currently? If so, how are you finding the build? What do you like best about it?
Where do I start…? Currently, the Jaguar E-type and the Shelby Mustang GT500. Also Thunderbird 2. In the wings… Lamborghini Countach and Millennium Falcon. I'm a bit of a part work nut I'm afraid.
Part work models are great because anyone can build a lovely display piece
Because I build model cars from scratch, I find part works to be a bit of a break. I always add umpteen extras, as I'm currently doing with the E-type, and just starting on the Shelby. They will both get a large engine 'makeover' as well as lots of attention to the interiors such as carpets and leather trim.
The E-type is great fun. At every stage, I find things I want to add to. That isn't to say that the kit is lacking – it isn't. It's a great kit. I just enjoy looking at the little bits, and adding more.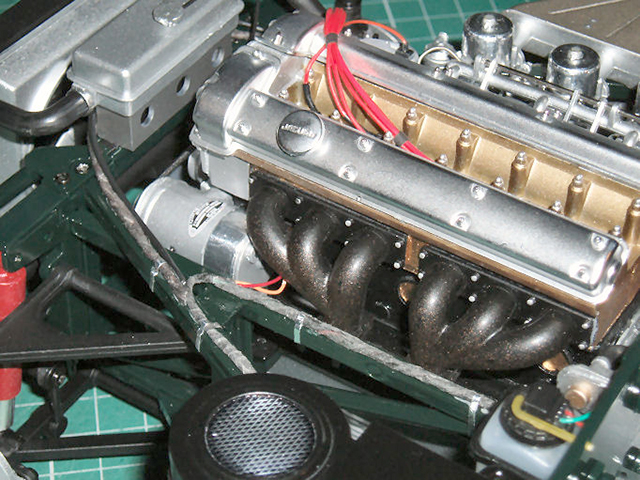 Roy's DeAgostini ModelSpace Jaguar E-type
I always think it's the tiny details that make all the difference. Repainting bits and adding different body stripes is great. I just like to add the missing low tension wires from the coil, or the relay and wiring that should be on the bulkhead…
Part work models are great because anyone can build a lovely display piece but there's scope for the poor old 'OCD' nitwit like me to go further.
The Thunderbird 2 is purely because I'm a life-long Gerry Anderson fan, so that kit is getting 'the works' too.
5) If you could build a scale model of anything, what would you choose and why?
I've always been a Jaguar and Aston Martin fan so it would probably be something there. The 50's – 60's cars are my favourites so it might be an XK120, or the famous E2A.
With solder, you need to do that before fixing the parts together
Equally, with Aston, a DB2 or 3, possibly one of the road cars rather than the DBR series of racers. I just love the way these cars were all hand built around nothing but tubes, pipes and section.
I can't solder for the life of me so all of my chassis have been built using epoxy but it works fine and with glue there's plenty of time to move the parts and get them right. With solder, you need to do that before fixing the parts together. Too much aggro.
When I built the DBR1 it took forever to make the cage part of the chassis inside the boot. It was spaghetti in metal. Good fun though. The Knobbly Lister Jaguar was even worse. So, I think I'd build anything with a fiddly chassis…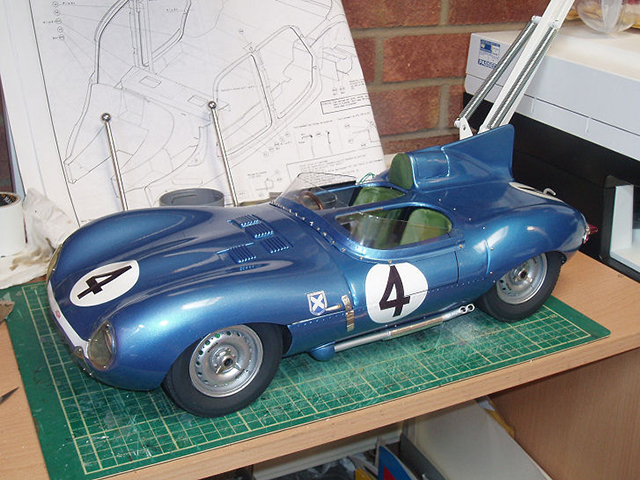 Roy's Jaguar D-Type
6) Are there any other scale modellers whose work has impressed or inspired you?
Yes, quite a few. There are a few chaps on a forum I used to visit who seemed to have patience beyond the realities of humanity.
I think in reality, all modellers inspire me in one way or another as everyone is different
On the DeAgostini ModelSpace forum there are several that I really like and admire, but I'd rather not pick out any individuals as I'd probably forget someone and offend others by not including them.
I think in reality, all modellers inspire me in one way or another as everyone is different, and there's a huge diversity in people's skills. Everyone can learn something from others, whatever their skill levels.
7) Do you have any other hobbies outside of scale modelling?
Blinkin' 'eck – where do I begin…? I've been a solo guitarist for donkey's years and did session work when I was considerably younger. I was on Top of the Pops a few times in the '70's with bands I'm not allowed to mention as it's considered 'riding on their backs'. I'm currently gigging in a duo playing anything from Gary Moore, Clapton, Dire Straits, the Shadows – even Phantom of the Opera. I've been playing for about 50 years.
I also have a limited edition Burns Marvin, signed by the man himself, Hank Marvin
My two main guitars are 'Old Red' – a Custom shop Fender Strat that's now about 30 years old. A company called 'Oz Mini-guitars' even make a 10″ mini version of it as it's a one-off. They even have my name on it. I also have a limited edition Burns Marvin, signed by the man himself, Hank Marvin.
When I get time I write adventure/fantasy novels. I've got two books published, one in partnership with a film producer in Canada. That one was made into a movie about 4 years ago. It also won two medals in national book awards in the States. Both books are published pretty much everywhere. If you search 'Roy Fitzsimmonds' on Amazon, they're both there. I'm currently half way through my third book.
The Orion Nebula is a favourite to look at. It's jaw-dropping. So is Saturn and Jupiter.
Astronomy. I have a Skywatcher telescope and love looking at the night sky. I cheat a bit, as it has a computer controlled guidance system so I just tell the telescope what I want to look at and it automatically seeks it out. Brilliant. The Orion Nebula is a favourite to look at. It's jaw-dropping. So is Saturn and Jupiter.
I have a small garden railway that hasn't had much attention this year so when we get back into the warmer weather I'll be out there.
Lastly, my car. A gorgeous Jaguar XK that I recently had wrapped in one of the new Gulf racing team colour schemes. It's a Marmite thing – love it or hate it.
I love it. The car has had umpteen things upgraded and it has a lifetime platinum warranty as long as I keep the car. I'll never sell it anyway. It's a tad thirsty – average around 13-14 mpg. However, it's a weekend and fun car and I only do around 20 miles a week in it, apart from when my wife and I go on short breaks anywhere. We always take my Jaguar. It's a superb, creamy smooth mile-eater.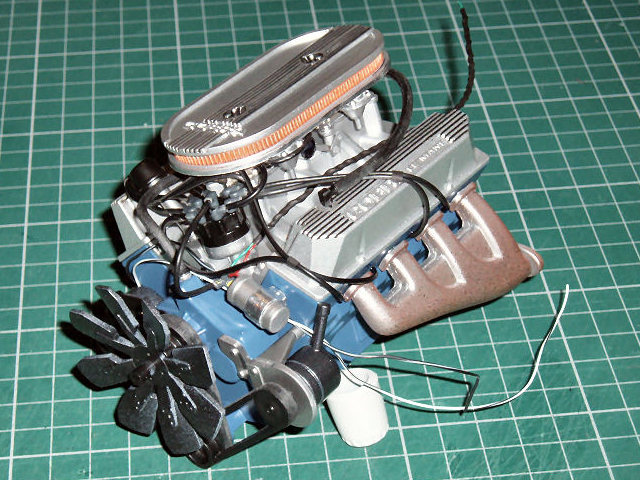 Roy's DeAgostini ModelSpace Shelby Mustang GT500
I'm happily married to Samantha, 16 years my junior. I do my best to spoil her rotten. No ulterior motive but it does have the benefit that she lets me pretty much do what I please and spend daft money on model kits and my Jag. We enjoy holidays and try to get away a couple of times a year. The last holiday was a 17-day cruise on the Queen Victoria. Awesome. It was our 5th cruise with Cunard and we're converted Cunarder's now.
I'm retired after 34 years as a teacher. It was a great time, but I'd had enough so escaped early at 58. I'm chief cook and bottle wash at home as Sam still works as the senior attendance officer at the school, where we met. I love cooking which Sam is happy about after a day at work. Wine…. OK, stay off that subject as we probably drink far too much of it. I love Asterix the Gaul and Tintin. A big kid at heart.
Roy is certainly a man of many talents, and we can't wait to see more of his great work in future! Are you our next featured scale modeller? Get in touch via the blog comments section, or tag us on Facebook, Twitter, Instagram, Google+ or Pinterest! We look forward to seeing all of your scale model projects!