Hummer H1 History – Origin of a Legendary American Vehicle
If you want a powerful RC car with awesome off-road capabilities and a unique history, look no further than our Hummer H1 1:8 replica. Based on the military Humvee, and embraced by Hollywood superstars, the Hummer H1 is known the world over as a symbol of vehicular size and strength – the world's most powerful off-road civilian vehicle. But how did it come to be, and what was it actually capable of? Read on to explore the fascinating story of this iconic four-wheeled beast.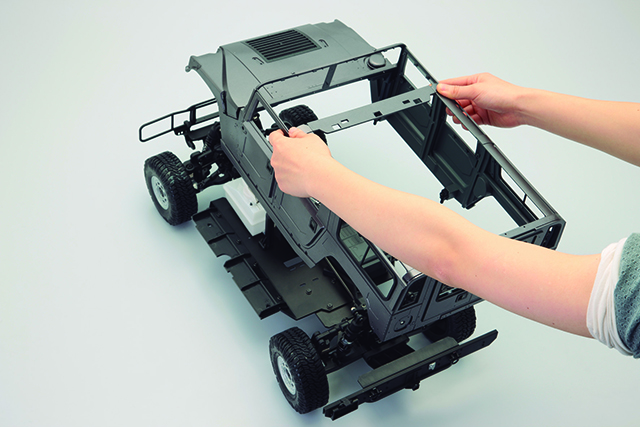 Rise of the Humvee
In 1979, AM General commenced preliminary designs for their M998 Series High Mobility Multi-Purpose Wheeled Vehicle (HMMWV), aka the "Humvee" – a fast, agile, and mobile 1.25-ton truck designed to replace the M151 and light tactical vehicles of the U.S. Army. After an initial prototype contract, AM General won a $1.2 billion contract for the production of 55,000 Humvees, later increased to 70,000 at a cost of $1.6 billion.
The Humvee has gone on to play a vital in multiple U.S. military actions, including Panama (1989-90) and, most notably, Operation Desert Storm (1991) during the First Gulf War. In recent times, the Humvee has been present in Afghanistan, the Balkans, Iraq, and Somalia.
Birth of the Hummer H1
On January 2, 1985, the first HMMWV (Hummer) rolled off the assembly line as a standard military vehicle, but it wasn't until 1992 before the world first saw the civilian Hummer we all know today. Dubbed "the world's most serious 4×4", the Hummer's longevity, mobility and high performance have been big selling points since its inception.
It wasn't until 1992 before the world first saw the civilian Hummer we all know today
After an agreement between AM General and General Motors Corporation was finalised in 1999, exclusive rights of the HUMMER brand passed to GM, resulting in the original Hummer's renaming to the Hummer H1, and paving the way for release of the H2 in 2002 and the H3 in 2005.
The Terminator's Vehicle of Choice
Though AM General were responsible for the production of the Hummer, it was the persistence of one of Hollywood's biggest stars that helped bring it to life. The story goes that Arnold Schwarzenegger was on set filming for the 1990 film Kindergarten Cop, when a military convoy of approximately 50 Humvees rumbled past. Needless to say, Arnie was instantly hooked – on closer inspection, he was quoted as saying, "look at those deltoids; look at those calves."
Schwarzenegger flew to Indiana to collect the first two Hummers
Unfortunately for Schwarzenegger, the Humvee was not street legal, and it took lengthy negotiations and the eventual signing of a very long liability waiver for him to finally get behind the wheel of a customised, sand-coloured Humvee made safe for the streets of L.A. Not fully satisfied, the star continued works with AM General over the coming months, helping refine the Humvee into a vehicle suited for civilians. When October 1992 arrived, Schwarzenegger flew to Indiana to collect the first two Hummers.
Ready for Anything
Despite being fit for off-road adventures, the Hummer H1 is more typically found on city streets than crossing jungle terrains. That said, they are designed to handle a wide array of conditions, as demonstrated by this video of a brave driver traversing the flooded streets of Houston. With its superior power and robustness, the Hummer H1 takes to the water like a box-shaped submarine.
Make It Your Own
Our 1:8 scale RC Hummer H1 may be a fraction of the size, but it is still big enough to have some serious fun with, and gives you the freedom to design it however you see fit. As an example, our expert builder from the ModelSpace Germany forum but together this amazing camouflaged version!
Though the Hummer H1 is no longer in production, it will forever be an icon of toughness, high-performance and excellent off-road engineering. Our scale model is a faithful replica – its 4WD system and GX21 Kyosho engine giving you incredible reliability and mobility no matter where you choose to drive it! If you're looking for a remote-controlled car which is as agile as it is powerful, this is the car for you!
Sources:
http://www.gmhummer.com/history/history.htm
http://www.washingtonpost.com/wp-dyn/content/article/2010/02/26/AR2010022603248.html