Formula 1: Red Bull Racing – RB7 to RB12
Racing RC cars is an awesome pastime, from building and enhancing your car to taking on friends in highly competitive races. With our Red Bull RB7 1:7 scale model you can construct and race a detailed replica of Sebastian Vettel's 2011 Formula 1 Championship winning car. But do you know what made the car so incredible, and how have Red Bull's cars evolved to reach 2016's RB12? Read on to discover the evolution of Red Bull Racing.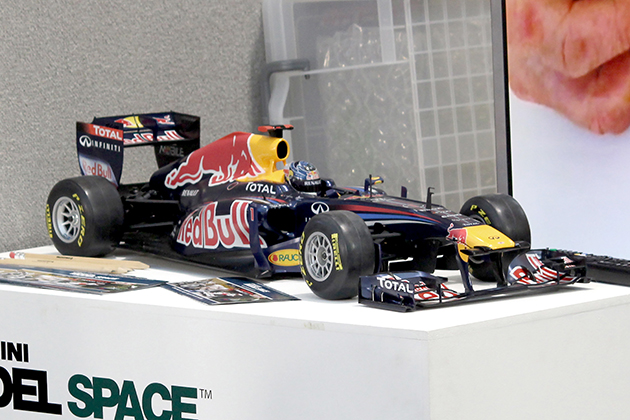 Rise of the RB7
In 2010, Red Bull Racing claimed its first ever World Constructors' Championship win, with Sebastian Vettel also claiming his first Drivers' Championship behind the wheel of the excellent RB6. This hard-fought success set the tone for the team, but with a raft of new regulations enforced for 2011, a natural evolution had to occur.
The team secured a Renault RS27 engine, as well as a new kinetic energy recovery system (KERS) – another reintroduction to the Formula 1 regulations. A ban on double-deck diffusers also presented an opportunity for Red Bull to utilise the pull rod rear suspension they first introduced in the 2009 season. Despite the KERS being a touch unreliable, the RB7 proved to be a very special car.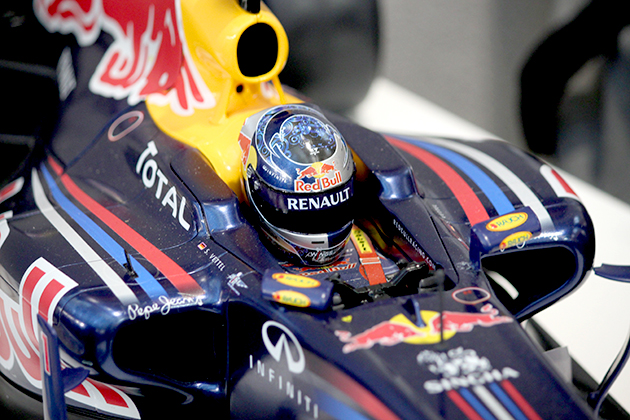 Total Team Dominance
Before 2011, Sebastian Vettel had already proven his incredible Formula 1 racing pedigree – finishing the 2009 season as the youngest World Drivers' Championship runner-up, and becoming the youngest ever driver to win the Championship in 2010 at only 23 years old. But 2011 was when he truly stamped his greatness on F1, defending his title in dominant fashion behind the wheels of the powerful Red Bull RB7.
Combining with Australian teammate Mark Webber, the RB7 missed the top five only twice and claimed all but one pole position, finishing with a superb 12 wins of 19 races.
A Messy Championship
As clean-cut as Red Bull's success was in 2011, the 2012 season was a muddy affair, which threatened to derail the team's title defences at every turn. The RB8 featured a stepped-nose to meet imposed safety regulations, like many of the other cars, but other adjustments drew criticism and questions of legality throughout the season.
At the season midpoint, Red Bull was right in the thick of a tight battle to reclaim both its titles
During the German GP, the team was referred to race stewards by FIA Technical Delegate Jo Bauer, who had concerns over a possibly illegal throttle map. In 2011, F1 teams were able to program their engines to push more air through the exhaust and across the diffuser, thus increasing downforce. Regulation changes saw a ban of this practice in 2012, but Red Bull Racing was suspected of abusing this. Although they were cleared by the race stewards, this was one of a few complaints the team was forced to handle.
At the season midpoint, Red Bull was right in the thick of a tight battle to reclaim both its titles, but some more breath taking driving from their wunderkind Vettel saw them clinch both titles for the third year in a row.
Red Bull recently set up a fun challenge between two RB7's and an RB8, check out the video below:
Broken Records
The 2013 season started much like 2012, with the RB9 proving to be a very capable vehicle without truly blowing away the competition. Once again Sebastian Vettel and the team clung onto tight leads halfway through the season, but this was no time to panic. The German maestro tore apart the record books to claim nine wins from the final nine races, making it an unprecedented four years in a row for him and the Red Bull team.
Changing of the Guard
2014 saw the first major change for the team in a long time, with Mark Webber's retirement opening the door for Australian Red Bull Junior Programme graduate, Daniel Ricciardo. Having flown so high for so long, Vettel struggled all season – a second place in the Singapore GP his best result. Conversely, Ricciardo didn't waste his promotion, scoring three wins in the RB10 and finishing third in the Drivers' Championship.
Red Bull was quick to promote the young Russian Daniil Kvyat, whose debut F1 season at Toro Rosso had everyone talking
Red Bull Racing finished second in the World Constructors' Championship Mercedes, with Vettel choosing to part ways with the team. Red Bull was quick to promote the young Russian Daniil Kvyat, whose debut F1 season at Toro Rosso had everyone talking.
A Forgettable Year
It's safe to say that 2015 just wasn't Red Bull's year, with the writing on the wall early on. Four races in, the new combo of Ricciardo and Kvyat only managed a total of 23 points – the team's worst start in a long time. The RB11's poor power unit performance and reliability continued to hamper both drivers, resulting in Red Bull failing to secure a win for the first time since 2008. The result was a fourth place finish for the team, and a lot of room for improvement.
Signs of Improvement
2016 has seen the birth of the RB12, and with it hopes of a return to form for Red Bull Racing. Daniil Kvyat showed good form at the Chinese Grand Prix to claim third, but he was dropped from the team following an error during the Russian GP, which forced Ferrari driver Sebastian Vettel to retire.
Kvyat's demotion saw the introduction of eighteen-year-old Belgian-Dutch driver Max Verstappen, who wasted no time in securing his place in the team with a stunning first place debut at the Spanish GP.
It's impossible to say when Red Bull Racing will claim their next Championship, but with an impressive legacy of winning and a strong pool of talented engineers and drivers, you'd argue that it's only a matter of time. While we wait for that, here's a great video of the DeAgostini ModelSpace Red Bull RB7 in action:
Which Red Bull Racing car do you like best, and which evolution would you like to build a scale model of? Let us know in the comments!
Sources:
http://www.racecar-engineering.com/cars/red-bull-rb7/
https://en.wikipedia.org/wiki/Red_Bull_RB7
https://en.wikipedia.org/wiki/Red_Bull_RB8
http://www.redbullracing.com/team#
https://en.wikipedia.org/wiki/Sebastian_Vettel
https://en.wikipedia.org/wiki/2015_Formula_One_season
https://en.wikipedia.org/wiki/Red_Bull_RB11